It's been quite the week for special-edition Leica cameras, with another one clamouring for your attention. This time it's the rather lovely Lecia M Monochrom that gets the glamorous makeover, with the firm teaming up with rockstar Lenny Kravitz to create the M Monochrom Drifter.
The M Monochrom is, as the name implies, Leica's black-and-white digital camera, sporting a 24MP full-frame sensor. The name "Drifter" comes from Kravitz himself, as he explains: "I'm a drifter. That has been my life since I was 15-years-old; I'm always on the road."
Internally this new edition is the same as the standard M Monochrom, but on the outside it has a faux-snakeskin covering made from high-quality synthetic vegan leather, a material that was frequently used by fashion designer and animal rights activist Stella McCartney.
This isn't the first special edition of the M Monochrom – last year saw the introduction of the "Stealth" edition, which had engraved glow-in-the-dark numbers.
The new Drifter camera comes with a matching carrying strap made from the same material. Its body is painted sepia brown, and its hotshoe, thumb wheel, shutter and soft-release buttons are all made from untreated brass, which Leica says will allow them to develop a vintage look over time.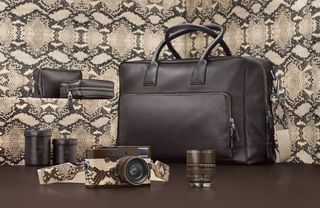 The Drifter also comes with two Leica lenses that have been finished in sepia brown to match – the Leica Summicron-M 28mm f/2 ASPH and the APO-Summicron-M 75mm f/2 ASPH, both of which come with matching lens hoods. It all also comes with a stylish leather-like "Drifter Traveller" bag, as well as pouches for the lenses.
Only 125 of these limited-edition sets are going to be produced. The RRP for the whole set will be £20,500 / $23,950.
Read more:
The 10 best Leica cameras in 2019