When Leica decides to celebrate something, it's safe to say that a special edition of one of its prestige camera models is certainly on the horizon. And so it goes with the 100th anniversary of the founding of the Bauhaus school of art and design in Germany, which the firm is commemorating with – yes – a special Bauhaus edition of its Leica CL compact system camera.
The Bauhaus art school operated in Weimar from 1919 to 1933 and had an enormous influence on trends in art and design throughout the Western world.
Internally, this special edition Leica camera is identical to the regular CL, boasting a 24.2MP APS-C sensor, an EyeRes EVF with 2.36m dots of resolution, a 49-point contrast-detect AF system and the capacity to shoot 4K video at 30p.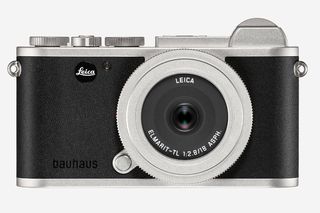 The differences are cosmetic, with the Bauhaus logo embossed in the leather on the camera's front and the customary Leica logo being rendered in a tasteful black rather than the standard red. It also comes with a bespoke carrying strap that also bears the Bauhaus logo. This special edition of the CL comes as a kit and is paired with a custom version of the Elmarit-TL 18 f/2.8 ASPH lens that has been styled to match. Each camera also has a unique serial number for collectors.
According to Leica, "The Leica CL represents the juxtaposition of iconic design and advanced technical standards.
"This portable system camera is a versatile everyday tool for photographers that delivers pristine image quality and sensory satisfaction."
Only 150 of these special edition sets are going to be produced, and they'll be available exclusively at Leica stores and boutiques. Leica says the asking price for the kit will be $3,750 (about £2944).
Read more:
Leica CL: New mirrorless model expands Leica's APS-C offerings
The 10 best Leica cameras in 2019