It's always there. Next to me, and now it's £220 off in the Amazon Prime Day sale! The Olympus PEN E-P7. It is quite simply the one camera I can't live without and it is now on sale this Amazon Prime Day and rightly deserves a place in our best Prime Day camera deals.
The answer may not satisfy some, but it is simple: this camera is small yet mighty. It punches well above its weight. It's not big but it is clever. And other such clichés.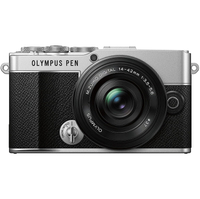 Olympus Pen E-P7 + 14-42mm zoom|was £849|now £669.99
SAVE £179 Equipped with a 20MP Micro Four Thirds sensor that is capable of recording 4K video, with funk colour and monochrome picture controls this compact camera is a super powerhouse. It comes with a comes with a Zuiko 14-42mm EZ zoom (equivalent to a 28-85mm in old 35mm SLR terms).
It's one of the smallest, sleekest bodies on the market. More importantly, though, so are its lenses. While APS-C, and even full frame bodies, can be small, their optics will never be as small as they can be on a Micro Four Thirds system.
The flippy down selfie screen makes this a great option for when I want to take a selfie with better quality than my phone. And I can even control the camera from my phone, for remote shooting or triggering, and zip my photos back to it via WiFi in an instant. It's a genuinely viable replacement for the immediacy of my omnipresent phone camera.
But it doesn't compromise on quality. Is there as much detail or dynamic range or depth of field as there is on my Canon EOS R5? No. But I don't need there to be. Photos from this camera are more than good enough for double-page spreads in magazines. And they're certainly more than good enough for Instagram and Facebook.
If I only get to keep one camera for the rest of my days, it's this.
Read more:
Olympus PEN E-P7 review
Olympus M.Zuiko 45mm f/1.8 review
Best Olympus lenses (OM System)
Best Micro Four Thirds lenses
Best Micro Four Thirds cameras