With rumors that we could be seeing the new Olympus OM-D E-M5 Mark III within the next month, we're not surprised to see the previous model, the Olympus OM-D E-M5 Mark II, receive a cheeky little discount. However, it's not just the camera body itself that you'll be getting in this great camera deal.
With a 20MP mirrorless sensor and TruePic VIII processing engine, the flagship Olympus M5 Mk II also boasts fantastic image stabilization - with up to 5.5EV stops of compensation. This makes capturing handheld photos an absolute dream.
• Read more: Best Olympus cameras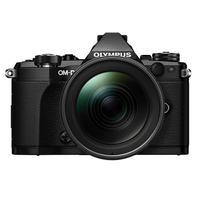 Meanwhile, the Olympus M5 Mark II also offers a 121-point autofocus system and a burst mode of 60fps with the AF and exposure locked to the first frame in the sequence. If you'd like to use continuous focus, you'll still have a very impressive 18fps to work with. This makes the M5 Mark II a very tempting proposition for sports and wildlife photographers.
However, you won't just be receiving the Olympus M5 Mark II in this fantastic camera deal. You'll also be receiving an M.Zuiko 12-40mm f/2.8 Pro lens as well, which is the equivalent of a 24-80mm focal range on a full frame sensor. With a constant aperture of f/2.8, this is a great kit lens to begin your Olympus journey with.
It might not be Black Friday yet, but there's certainly never a bad time to grab a great deal like this!
Read more
Best Micro Four Thirds lenses for your Olympus or Panasonic camera
Best Panasonic cameras in 2019
Best Fujifilm cameras in 2019