We saw great deals on Black Friday and Boxing day on the Nikon D610... but now Amazon UK has obviously found some more stock, and offering a stupendous deal for anyone who fancies a cheap way of stepping up to full frame. The price of this DSLR is now down to an incredible £699! That is a full £50 cheaper than it was on Black Friday.
The Nikon D610 has a full frame 24-megapixel sensor just like the one in the still-current Nikon D750, but thanks to this Amazon UK deal it's WAY CHEAPER. The D610 has a fixed rear screen compared to the tilting screen on the newer D750, but otherwise there's little to choose between them.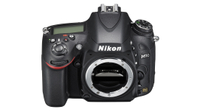 Nikon D610 body only, just £699 – £500 saving
The D610 is like a simpler sibling to the Nikon D750, but brought back into contention thanks to a massive discount to make this the cheapest full frame DSLR you can buy. It's also still a great camera.
UK deal
The D610 may be a few years old now, but it's still got what it takes. Its rear screen doesn't tilt, but its a larger than usual 3.2-inch display with 921k dots. The D610 also has a 6fps continuous shooting speed, dual card slots and is fully weather-sealed. Like other cameras of its era, it doesn't shoot 4K video, but it can capture in full HD at 30p/25p/24p.
If your main interest is stills photography, this D610 deal offers you the chance to get a full frame Nikon DSLR at a price unlikely to be seen again. If you've been dreaming of going full frame but never had the cash, now's your chance!
Read more: