The Canon RF 35mm f/1.8 Macro IS STM lens was one of the first optics for the fledgling EOS R system and it became a must-have in a kit bag pretty quickly after its launch a couple of years ago.
What makes this lens so popular is its versatility. Its compact form factor and light weight makes it the perfect companion for any of the EOS R cameras, particularly the older ones (which are, themselves, small and light). Paired with the Canon EOS R and EOS RP, it's a well-balanced kit that's great for street photography.
There's hardly anything to complain about in terms of performance, either. This prime lens offers excellent sharpness, particularly at moderate apertures, while corner sharpness is great when wide open. Its autofocus system is fast and practically perfect, with a minimum working distance of just 7cm.
It's usual RRP is AU$799, but it is possible to find it for about AU$100 less at some Aussie retailers. However, Amazon Australia has shaved off a little more, offering it for a touch over AU$590.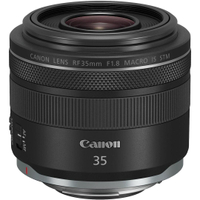 Canon RF 35mm f/1.8 Macro IS STM | AU$799 AU$593.30 on Amazon (save AU$205.70)
While most RF lenses are heavy and pricey – particularly the ones that launched alongside this little prime optic – the RF 35mm f/1.8 Macro is a great EOS R companion. It's relatively affordable, especially if you take advantage of this discount on Amazon Australia. Its RRP is also lower than what you'd find at some Aussie retailers, which is then further discounted down.
This discount makes the RF 35.. f/1.8 Macro lens one of the most affordable Canon mirrorless lenses yet. And put into perspective of its versatility, it's a great bargain. After all, you can use this as a macro lens as well.
That said, it's not a true macro lens, with only a 0.5x magnification ratio, but the results are still excellent. The only 'true' macro RF lens is the new RF 100mm f/2.8L Macro, which has only been announced but not yet available to buy, and is going to set you back a lot more.
So snap this offer up before it disappears!