In an intriguing development, Canon has turned to a crowdfunding platform for its latest camera, the Canon Ivy Rec – a weatherproof, wireless, wearable outdoor camera costing $130 / £104.
Described as "the ultimate go-anywhere camera: clippable, lightweight, compact, and rugged – designed to go where the moment takes you", the Canon Ivy Rec has no screen or traditional viewfinder and looks like a slightly larger USB stick.
Its 13MP 1/3-inch CMOS sensor takes stills and 1080p video up to 60 frames per second. With no screen to review images, it uses Bluetooth and a new mobile app – the CanonMini Cam App – to transfer files wirelessly.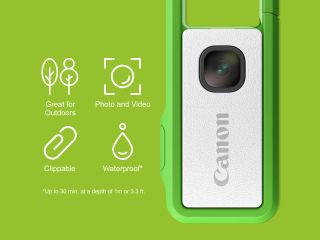 It's designed for rough-and-tumble outdoor use, and is waterproof to 1 meter / 3.3 feet (for up to 30 minutes). It features a carabiner that can be clipped to your belt or bag, which also acts as an analog viewfinder to frame your images.
Specifically, it is Canon USA that has launched the Indiegogo campaign – and it was a Perk-only campaign, with a very modest target of 100 Perks (in other words, a target to sell 100 units) starting at a Super Earlybird price of $91 / £73.
This might suggest that Canon isn't actually using the platform to fund and develop the product – firstly because Canon clearly doesn't need to pass around a collection plate to raise money, and secondly because it isn't Canon USA that's developing or manufacturing the product.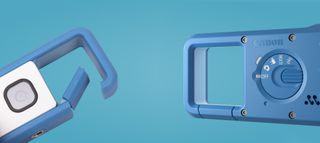 We first laid eyes on the Canon Ivy Rec at CP+ in Japan, among a series of Canon concept cameras, under its Japanese name Canon Soto Asobi. As we understand it, the product development and build is being handled by Canon Japan.
Since the Soto Asobi / Ivy Rec seems like a distinctly Japanese product – particularly with its changeable, customizable covers and even a miniature life jacket for use in water – the Indiegogo listing (hat tip to Canon News) could be a way for Canon to gauge interest in the Western market.
At the tail end of July Canon had sold 520 units – a surprisingly low number, though such a low key Indiegogo campaign for a Canon product launch is such a surreal concept that it's hard to tell whether it was a success or not.
No wider release information has been revealed, though Indiegogo purchases have been informed that the Canon Ivy Rec will ship in October, so a retail release in time for Christmas could well be on the cards…
Read more:
Canon reveals concept cameras and virtual camera at CP+
The 10 best waterproof cameras and underwater cameras in 2019
Olympus Tough TG-6 review: the ultimate go-anywhere camera?