Being located on the home turf of Japanese camera manufacturing, CP+ is an ideal place for the big brands to show off their latest innovations and conceptual ideas. Such was the case at CP+ 2019, where five fascinating Canon concept cameras were revealed.
As reported by Digital Camera Watch (via Canon Watch), these new cameras were on display at the show in Yokohoma, Japan.
Whether or not they were conceived as a response to the company's concerns over smartphones – which CEO Fujio Mitarai predicted could have the camera marker in two years – is unclear. However, its first two concept models are designed to complement smartphones in areas where they fall short.
Canon Soto Asobi (outdoor camera)
Roughly translated as "playing outside", the Canon Soto Asobi camera is a sturdy device intended for outdoor use, being both waterproof and able to survive being dropped from up to two metres.
With a unique design that foregoes a viewfinder, instead using the body of the camera to provide a rangefinder view (which also doubles as a carabiner), the price is kept down to an estimated $100.
Aimed at younger consumers, the camera can be customised thanks to the replaceable exterior panels, which would no doubt be mana from heaven for eBay sellers and market stalls.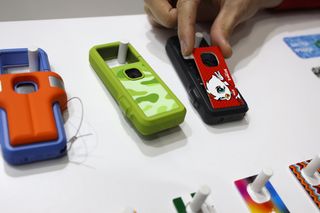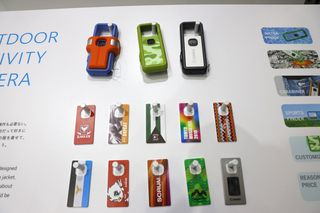 Canon Multifunctional Camera
The concept of the Canon Multifunctional Camera is "to enjoy telephoto lens easily" – again fulfilling an area that smartphones, even with technology like Oppo's 10x optical zoom, are less able to compete.
The new camera has a telephoto range of 100-400mm, which is expandable with electronic zoom, making it appropriate for shooting things like sport much more easily.
It has been designed for smartphone integration, as your phone can be used as a display – making this somewhat similar to the Olympus AIR A01 system that was released in the USA and Japan. It is also envisioned to use your phone to obtain information, such as identifying players while you shoot.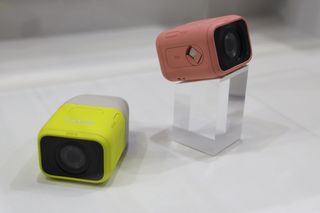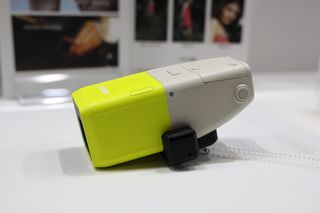 Canon Intelligent Compact Camera
A device that seems reminiscent of the Microsoft Kinect sensor, the Canon Intelligent Compact Camera supports voice input, gesture recognition and tracking for automatic shooting.
In addition to speech, it also recognizes smiles and peace signs. With a pan and tilt mechanism, the shooting range is 360° horizontally and 110° vertically. Canon is also looking at outdoor applications for the camera.
The device is in its third generation of development, which means that this may actually be released to market.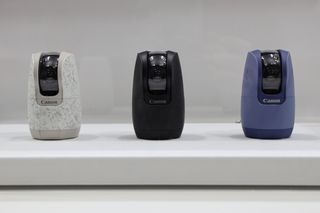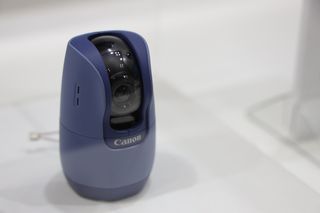 Canon Kids Mission Camera
Aimed at children around 10 years old who take an interest in cameras (ie those who want to play with their parents' expensive cameras), the Kids Mission Camera is built around the idea of "game sensation".
This includes concepts such as a "Mission Mode", where children are given themes like Emoji, Color and Cat Feeling to encourage them to take photographs. If you ask us, every Canon camera should have Cat Feeling mode patched in with the next firmware update.
The camera also features a degree of smartphone integration, and also pairs with the Canon iNSPiC mini photo printer.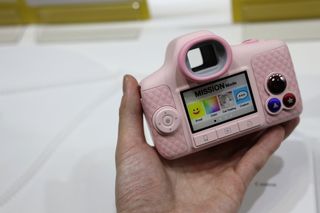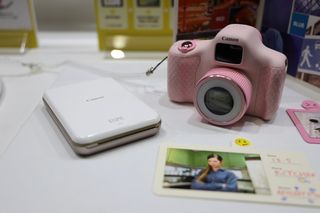 Canon Free Viewpoint Video System
By far the most conceptual of the designs on show is the Canon Free Viewpoint Video System – a virtual camera that appears to be an extension of the multi-camera setups used in sports leagues like the NBA, built on the principles of the Bullet Time visual effect innovated by The Matrix.
The working demonstration machine at CP+ used 30 cameras to film a game of soccer (or football, as it's called everywhere except the US); by combining and interpolating the images from each one, it is possible to produce an immersive three-dimensional space in which you can move the camera virtually.
It is possible, therefore, to get impossible camera angles such as a player or goalkeeper's point of view. In addition to tracking specific players, the system also makes it possible to identify each athlete – opening the potential for intriguing analysis and sporting "analytics", which are becoming increasingly commonplace.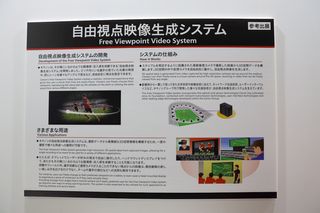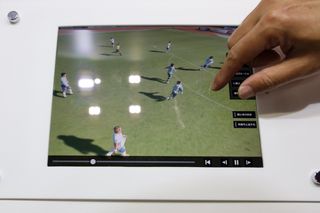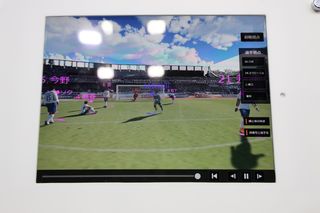 Whether or not these devices ever make it past the conceptual stage and into full production remains to be seen. Like concept cars in the automotive industry, these designs are often technical exercises rather than statements of intent.
That said, the Canon Intelligent Compact Camera is in its third generation of design and would certainly seem a good fit for homes where the likes of Alexa and Echo are commonplace. And of course, Cat Feeling is a mode that is simply too good not to bring to market.
Earlier versions of the Canon Intelligent Compact Camera and the Canon Multifunctional Camera were on display at The Photography Show last year. So if you'd like a closer look, you might want to come along to this year's show and see what's sitting on the Canon shelf…
Read more:
CP+ 2019: rumors and news of the new launches at this year's show