With more and more places insist that you wear a face mask when you are out and about, we all now have to decide which is the best face mask to wear? Plain white - or something more designer made out of colorful material? We have increasingly been drawn to customized photo face masks - that allow you to cover your face with a picture of your face!
The results can look amazing... It makes you look a bit more human, and you can choose the expression that you use for these custom printed designs. So you can be pulling a face - or always wearing a huge smile!
We first saw these custom made photo face masks appearing in India - made by corner print shops that had a suitable dye sublimation printer capable of printing your photograph onto fabric. But now a number of people offering this service online via the hand-crafting website Etsy (opens in new tab).
Typically you buy the design that you like, and upload the high resolution image of your face to the store via the Etsy message facility. Your mask is then mailed out to you often within a day or two.
Of course, Etsy can not make any medical claims about the efficacy of these masks. But many come with a built-in pouch that allows you to add a filter into the design for extra protection.
An interesting additional benefit of these masks, we are told, is that they can actually be used to unlock phones that use facial recognition! You have to save your face-masked face as a new user in the smartphone's security options - but it will mean being able to get into your handset without the need to resorting to old-fashioned PIN codes.
Below are some of the best face masks like this that we have found so far…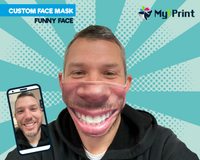 (opens in new tab)
Custom Funny Face Mask $16.25
MyTPrint on Etsy.com (opens in new tab)
This is one of our favorite finds on Etsy, and is quite literally designed to put a smile on your face in these difficult times. The two layer mask is made for cotton and polyester with a pocket for an optional filter. You upload your image via Etsy message after payment, and despatch is 3-5 days. Delivery available worldwide, and postage free in the USA.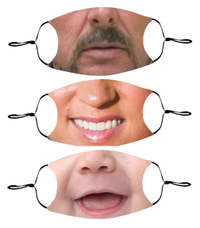 (opens in new tab)
Custom YOUR own FACE photo face mask from $19.95
SugarPlumLiam on Etsy.com (opens in new tab)
This costs slightly more than some, but for every face mask that you buy, this maker will donate one PPE face mask to an organization that is in critical need of personal protective equipment. Made of poly cotton the mask is custom printed with a high-resolution image of your own face that you supply. Comes with one filter. Mails to USA addresses only within 3-5 business days.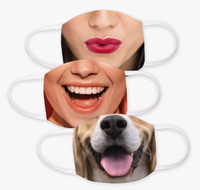 (opens in new tab)
Funny face mask was $18.99 now $15.19
Lips, smiley face, tongue or dog designs
AxeandCo on Etsy.com (opens in new tab)
No need to pose for these masks, as you get a choice of four stock images to put over your pooch. There are three fun female facial expressions to choose from... the puckered lips, a cheesy smile or a cheeky tongue out option. Alternatively there is a dog's face, if you prefer to look like a happy pooch. Currently there is a 25% discount on these masks, and they come supplied with two filters. Delivery available worldwide from USA.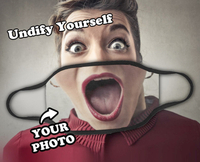 (opens in new tab)
Undify Yourself photo face mask £16.95 / $26.25
Undify on Etsy.com (opens in new tab)
This UK-based supplier offers a full custom service - and will position your face on the mask, and send you a proof to approve before the mask is made. The photo masks are also available in three sizes (small/medium/large, making them a great choice for children. Comes with one filter. Mails from the UK, but with free delivery worldwide.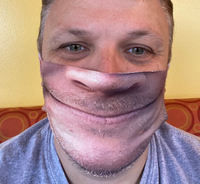 (opens in new tab)
Custom Photographic Face Masks from $12
SummersMade on Etsy.com (opens in new tab)
Marc Summers offers a service that allows you to put any image, logo or design onto a face mask – including a close-up of your face. He promises to make and dispatch your mask within 48-hours from the USA, and postage is a fixed $7 wherever you are in the world – with discounts if you buy in bulk.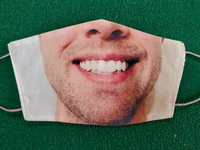 (opens in new tab)
Customizable photo face masks from $25 (opens in new tab)
(opens in new tab)PhotoQuiltCollage on Etsy.com (opens in new tab)
This face mask printing service offers you a 100% cotton half mask with the option to pay a bit extra for things like filter pockets, cloth ties and nose stays - with maximum price of $27.20, plus postage from USA.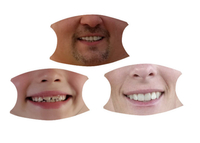 (opens in new tab)
Selfie face mask with two filters $12.50 (opens in new tab)
(opens in new tab)PerfectlyDesignedLLC on Etsy.com (opens in new tab)
Dye sublimated cloth face masks with insert spaces for replaceable filters and adjustable ear straps. Two PM2.5 Ion mask filter inserts included. There is bulk discount should you want multiple mask... the price for 10 is $100. Delivers worldwide from USA.
Other designer face masks
Where to buy face masks in the US:
Where to buy face masks in the UK:
Guides to home working products:

The best webcams (opens in new tab)
The best infrared thermometers (opens in new tab)
The best pulse oximeter (opens in new tab)
(opens in new tab)The best all-in-one printer for home working (opens in new tab)
The best monitor for photo editing (opens in new tab)
The best photo-editing laptop (opens in new tab)
The best video-editing laptop (opens in new tab)
The best video doorbell cameras (opens in new tab)
Best graphics tablets for photo editing (opens in new tab)
Best tablets for photographers (opens in new tab)
Best broadband deals in the UK (opens in new tab)
Best VPN services (opens in new tab)
Best website builders for photographers (opens in new tab)
The best laptop stands (opens in new tab)
The best desks for home working (opens in new tab)
The best microphone for vlogging (opens in new tab)