The best infrared thermometers let you take people's temperature from a safe distance. That's great for you (it protects you if they have an infection). That's great for them (it's lot less personal and invasive than a traditional thermometer). And it means you can quickly test a group of people, with the minimum of fuss.
An infrared thermometer, aka non-contact thermometer or pyrometer, works by measuring infrared radiation (in that sense, it's a bit like a simplified version of the best thermal imaging cameras). That means it's not just useful for measuring people: you can also use them to take the temperature of objects, such as industrial freezers, cooking pots, kilns and running engines.
Note, though, that not all infrared thermometers are suited for all tasks. Specifically, industrial thermometers have a far wider measurement range than medical thermometers, so aren't accurate enough for using on people's bodies. On the other hand, industrial devices tend to allow their 'emissivity' compensation to be adjusted. Infrared temperature reading is affected by how reflective the surface is; forehead thermometers assume they'll be working with human skin, while varied applications will need adjustment.
In this article, we look at the best infrared thermometers for both purposes. We'll look at the best infrared thermometers for medical use first, before moving onto the best infrared thermometers for industrial use.
The best infrared thermometers for medical use
Why you can trust Digital Camera World Our expert reviewers spend hours testing and comparing products and services so you can choose the best for you. Find out how we test.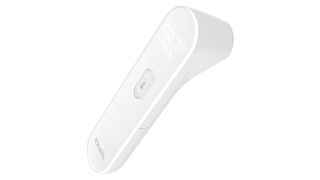 Looking for an infrared thermometer that's super-simple to use? This is the one. With a single button for a read out, you direct it at the centre of the forehead from about 2cm away (just under an inch), and you can get an accurate reading – without an annoying confirmation beep.
In a market swamped with just-good-enough packaging, it's nice to find a quality document explaining you how best to use this kind of thermometer; specifically to measure the centre of the forehead, just above the nose, when dry. (Sweat alters the texture of the skin, which affects the measurement.)
The system algorithmically combines data from 100 readings, plus a distance measure and an ambient temperature thermometer, all of which boosts confidence in the reading. It's powered by two AAA batteries, which are included.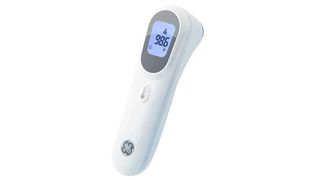 The GE Trucheck isn't the cheapest digital thermometer. But it comes from a brand associated with reassuring quantity of medical equipment, so you are getting a high quality product.
In their explanatory video, GE aren't shy about the 30 second wait between use, or the potentially more frustratingly 30 minute wait you should observe when moving from one room to another (to allow the Trucheck to adapt to the ambient temperature). That said, the fact they're putting this limitation front and centre, rather than drowning us in marketing speak, feels reassuringly sincere.
Parents will appreciate that there is a mute option for taking the temperature of sleeping infants, and a surface check option for checking things like the temperature of a milk bottle. These modes are cycled through with a single key; the other steps back through the last 10 readings.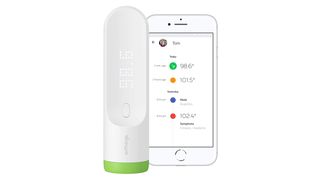 A Bluetooth and Wi-Fi connected smart thermometer, the Withings Thermo doesn't just take accurate readings from the forehead; it records them too. So the main benefit here is the ability to pass on multiple measurements to health professionals, quickly and easily.
The 20 x 5 pixel LED display looks futuristic, and it doesn't just show the read out; you can swipe up to select the family member. Oddly, the app is limited to eight profiles, but at least that's enough for most families.
There is a memory on-board for up to 32 readings, which can be transferred to an Android or iOS device when convenient. And, thanks to the Wi-Fi, distance is less of an issue than with Bluetooth-only devices. US citizens can offset the high cost via FSA health plans without a prescription.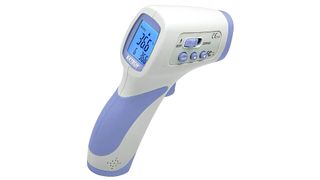 Want to avoid standing to close to the people you're measuring? This is a great infrared thermometer for measuring the temperature of groups of people, such as students or colleagues, from a distance. The pistol-like design means that it is easy to use, and with a measuring range of up to 5.9in away (five times that of most pistol-grip thermometers), there is a greatly reduced risk of actually touching the person's forehead or transmitting infections.
Extech is a subsidiary of FLIR, which is the biggest name in thermal imaging, which should give some reassurance as to the quality of this product. It has big button controls, and a simple-to-read display, and promises accurate readings in just 0.5 seconds.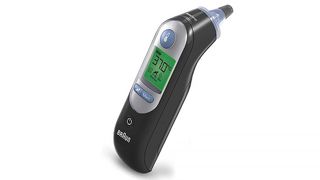 This infrared thermometer uses an in-ear measuring technique, which does mean you will have to get in close to the person. But by pressing the probe into the ear, using a disposable plastic guard, you can push the accuracy of the measurement to +/- 0.15˚C. There are 21 probe guards in the box, and 50 compatible ones cost about the same as a large latte (or rather more if you want Braun own-brand ones). Environmentalists will understandably have some serious qualms about this approach.
This thermometer also uses Braun's 'Age Precision' technology to remind you what is a 'safe' temperature: tap the button to cycle through '0-3 months' '3-36 months' and 'over 36 months' and, when you take a reading, you'll get a color-coded backlight (green for OK, yellow for 'elevated' or 'red' for high. Especially with young kids it's helpful to be reminded of when to worry and when not to!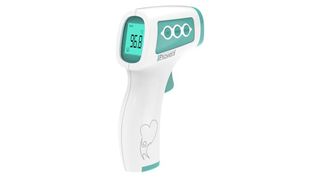 Simple but effective, and easy to grip, the IR200 stores up to 32 readings and so is a good choice to monitor groups such as a school class. A large backlit LCD display makes monitoring and recording temperatures quick and easy, and an adjustable alarm alerts you visually and audibly when the temperature exceeds the programmed limit. It offers a body temperature accuracy of ±0.3 degree Celsius/0.5 degree Fahrenheit.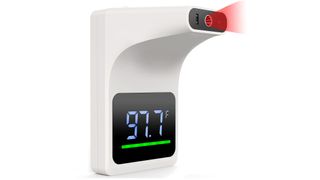 A wall-mounted digital thermometer is a great fit for cafes, stores and offices. It means you can directed people to take their own temperature with a polite sign, rather than have to do it for them.
Here's the best infrared thermometer of this type. While normal temperatures are met with a green light, there is a 'fever alarm' with beep-beep sound and red light. That might seem a little unsubtle, but otherwise operation is relatively painless.
This thermometer can be powered by USB-C lead, and one charge should last up to a week. Wall mounting is as simple as hanging on a nail or hook, though you might wish to take a little more care to prevent theft. The biggest challenge is choosing the right hanging height, especially if some of your visitors are children.
Best infrared thermometers for industrial use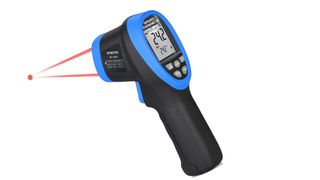 The wide temperature range of this thermometer gun makes it suitable for a huge number of applications, from checking the surface temperature of a pizza in the oven through automotive to HVAC. The dual laser beams help target the right spot and mean you can get a reading at a safe distance, even in a furness or kiln. A case and battery are both included.
Professionals will also appreciate the Emissivity adjustment. The reflective properties of different materials affect IR thermometers, but experienced pros will find the 'E' toggle easy to use, as well as appreciating the ability to set max and minimum warnings. The LCD is adequate, too, though contrast could be better. Note that, like all industrial thermometers, it's not accurate enough for use on humans.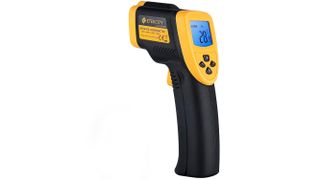 Ideal for use in electrical troubleshooting, HVAC, automotive and cooking and baking, this is an affordable IR thermometer which still boasts some of the features of pricier rivals.
You can take a continuous reading by holding the 'trigger', or release to lock the result on screen, and the IR pointer will always make it easy to see where you're getting your reading from. While it's a simple button press to flick from Celsius to Fahrenheit, the Emissivity is fixed at 0.95, and the accuracy is not medical grade.
As long as you work with that understanding – and can stay around 36cm / 14 inches from your subject – you'll still be able to, for example, check the surface temperature and cook the perfect steak, or locate problems areas with your home's insulation that, once fixed, could save you more than the price of entry in heating bills! The 9V battery is given a good life thanks to the seven-second auto shutdown.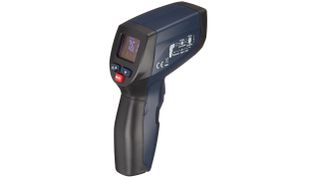 AmazonCommercial's play for the practical tool market means you're getting a lot of pistol-grip thermometer for a very limited investment. This system boasts not one but two laser-pointer style beams which are pointed so that – as you get the pistol at the right distance for the best possible measurement – they appear to converge.
The sensor is also faster than some, with a 150ms response time, with the ability to adjust the emissivity from 0.1 to 1 so you can work with different surfaces. Temperature scales can be changed too, of course, but that is common; many thermometers are fixed to a certain surface reflectivity (typically 0.95), making them less flexible. The reverse LCD display with backlight makes reading easier than some, too. We wonder, though, why Amazon isn't mixing things up a bit and using a more modern battery than the 9V.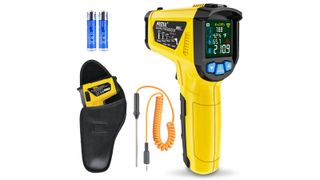 The Mestek 800C is a practical device powered by two AAA batteries in the handle (a set is included). These provide the backlight for the high contrast display which includes lines for ambient temperature (useful for comparison), humidity, and, of course, the main reading. Emissivity is easily adjusted with the blue buttons, too, but the real advantage this device offers against others is the K probe thermocouple. (The 'K' refers to the use Chromel/Alumel materials used in the sensor). In practical terms, this can be pushed into the turkey to measure the temperature, so a chef can get a surface and interior reading (both appear on screen at once). You won't get a medical quality reading, but accuracy is good. The probe plugs in via a jack at the side, and will need to be kept safe at other times. Overall this might look a bit industrial for some kitchens, but it can help in the garage, oven and barbecue if you don't mind the looks.
Read more
The best thermal imaging cameras