The best selfie cameras are the ones that put you in the picture! With a camera phone that simply means using the front camera (as long as it's a good one) but for compact cameras, DSLRs and mirrorless cameras you need something else – a screen that flips round to the front so that you get your Facebook face ready and get the backdrop right for your insta feed.
So you can take it for granted that the best camera phones will do a great job, but if you want a step up in quality and the ability to zoom in swap lenses, experiment with bokeh and raise your photography game in general, you need a mirrorless camera or a DSLR instead.
The good news is that you don't have to pay a fortune. Some of the best cameras for beginners have flip-around screens, and while the best mirrorless cameras are designed for 'serious' video and photography rather than selfies, many of them have vari-angle screens which can face forwards as well as backwards.
Of course, selfies aren't just sill images any more as video clips are popular too, especially amongst the new generation of content creators and influencers. If you're shooting videos of yourself, you might need to raise your game with an exteral microphone and lighting, and you might find our list of the best cameras for vlogging useful.
The best selfie cameras in 2020
Camera phones
1. Google Pixel 3a (but not the Pixel 4)
This cheaper version of the mighty Pixel 3 uses the same camera tech
Type: Smartphone | Sensor: 1/2.55" | Megapixels (rear/front): 12.2MP / 8MP | Lens (rear/front): f/1.8 / f/2.0 | Screen: Full-screen 5.6" OLED | Continuous shooting speed: Not specified | Max video resolution: 4K | User level: Beginner
Terrific image quality
Nice and affordable
No waterproofing
Only one lens
When Google announced a smaller and more affordable version of its flagship Pixel 3, it was great to hear that camera-wise it was broadly the same, with the same sensor and cameras on its rear. It only uses one camera for the front-facing shots, while the more expensive models use two, however the selfies it produces still impress, with excellent colours and vivid subject/background delineation. The construction is still pleasingly durable, though it's worth noting that this model does not offer the waterproofing of the Pixel 3. Despite this, the attractive price of the Pixel 3a, coupled with its excellent camera tech, make it a winner in our book, and one of the best value-for-money smartphones you can get hold of right now in terms of camera tech. It's also great to be able to see your images on such an excellent 5.6-inch OLED display, and it's also worth noting that if you'd like something a little larger you might want to consider the Pixel 3a XL, which bumps this up to a 6-inch display. And yes, we know the Google Pixel 4 is out but, to be honest, we're a bit disappointed – it's expensive and we don't think it's worth the extra over the Pixel 3a!
Read more: Google Pixel 3a review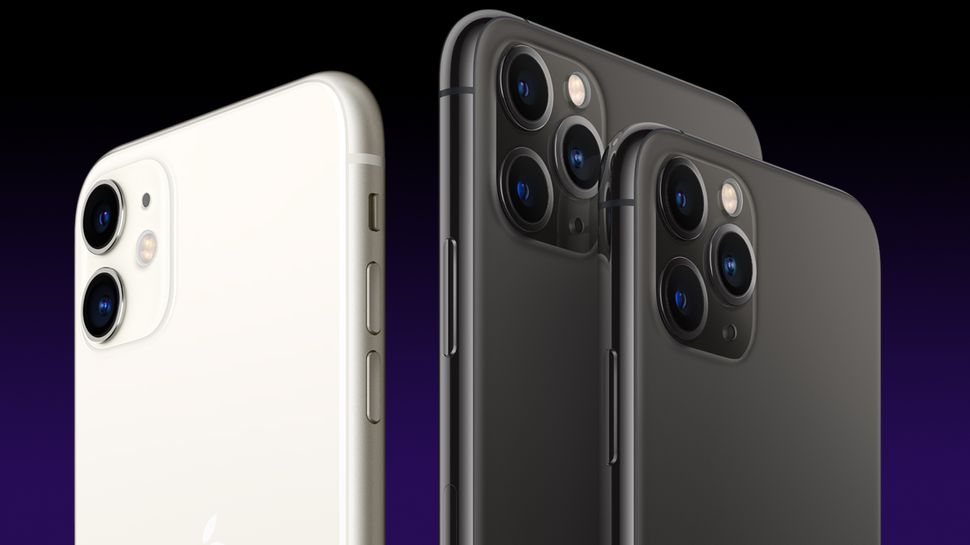 2. Apple iPhone 11 Pro
The iPhone 11 Pro is pricey but brilliant, and it does 'slofies'...
Release date: September 2019 | Rear cameras: 12MP 13mm f/2.4, 12MP 26mm f/1.8, 12MP 52mm f/2 | Front camera: 12MP, f/2.2 TrueDepth camera | OIS: Yes | Weight: 188 g | Dimensions: 144 x 71.4 x 8.1 mm | Storage: 64/256/512GB
Triple-camera array
Consistent image quality
Brilliant 'slofies'
Portrait effects
No 5G yet
Unambitious specs, on paper
You can't judge camera phones purely on specs. The iPhone 11 Pro's triple-camera array is hardly cutting edge by today's camera phone standards, but it works brilliantly. The colors, tones and exposures are consistent across all three rear facing cameras and the front facing 'selfie' camera – and the image processing is perfectly judged to produce natural looking detail and not the usual over-sharpened, over-smoothed smartphone 'look'. We like the regular iPhone 11 Pro best – the iPhone 11 Pro Max has the same cameras but it's just a bit big, while the regular plain-vanilla iPhone 11 is cheaper but doesn't have the 52mm telephoto lens. And no, we haven't forgotten our old favorite, the spellbinding Huawei P30 Pro, but the combination of US trade embargos and the iPhone 11's sheer brilliance have pushed the Huawei out of our list.
Read more: Apple iPhone 11 Pro review
Also consider: Apple iPhone 11 Pro Max review
Compact cameras
3. Panasonic Lumix ZS70/TZ90
Selfie-friendly functions and a huge zoom, all in a pocket-size camera
Type: Compact | Sensor: 1/2.3in | Megapixels: 20.3MP | Lens: 24-720mm | Screen: 3-inch tilting touchscreen, 1,040,000 dots | Continuous shooting speed: 10fps | Max video resolution: 4K | User level: Beginner
Plenty of selfie-friendly features
Huge zoom range
Small sensor
Viewfinder could be better
The TZ90, known as the ZS70 in the US, is unquestionably one of the smartest cameras around for selfie shooters. Flip the touchscreen around to face the front and you're presented with a range of controls, such as the option to soften skin, activate a slimming mode or choose between blurring the background and keeping it sharp. There's a Buddy Shutter option that captures the image as soon as you and a companion bring their faces together, and if you're some distance away from the camera you can even trigger the exposure by simply waving your hands across your face. Together with 4K video recording, a built-in viewfinder and a mammoth lens equivalent to 24-720mm, it's fit for whatever you want to throw at it.
4. Sony RX100 IV
A pocketable marvel, this high-speed, high-quality camera is exceptional
Type: Compact | Sensor: 1in | Megapixels: 20.1MP | Lens: 24-70mm f/1.8-2.8 | Screen: 3-inch tilting, 1,228,800 dots | Continuous shooting speed: 16fps | Max video resolution: 4K | User level: Enthusiast
Excellent image quality
High-resolution LCD
LCD not touch sensitive
Handling not for everyone
There's no need to plump for the latest and the most expensive RX100 model, as Sony keeps these cameras in production and it's possible to snap up older ones for a bargain price. We'd recommend the RX100 IV, which combines superb image quality and super-fast shooting speeds with a screen that tilts upwards, perfect for selfies and vlogging. It can also make use of a dual recording mode, capturing 17MP stills while simultaneously shooting Full HD video, and it has lots of nifty extra features like a built-in ND filter. The perfect camera to have in your pocket when you're out on your adventures, the RX100 IV will help you capture every moment. It's three versions behind the latest RX100 VII, but you may not need the latest tech and this model is still on sale and WAY cheaper.
Read more: Sony RX100 III vs RX100 IV vs RX100 V vs RX100 VI
5. Panasonic Lumix LX15
Panasonic's answer to Sony's mighty RX100 line is a corker
Type: Compact | Sensor: 1in | Megapixels: 20.1MP | Lens: 24-72mm f/1.4-2.8 | Screen: 3-inch tilting touchscreen, 1,040,000 dots | Continuous shooting speed: 10fps | Max video resolution: 4K | User level: Enthusiast
Very small body
Great image quality
Some rivals offer viewfinders
Battery life could be better
With its tiny body, flip-up touchscreen and a range of selfie modes such as Soft Skin and Slimming, the LX15 (also known as the LX10 in some places) has plenty of appeal for those wanting to capture themselves with ease. And that's all before you get to the guts of the camera, which themselves are pretty solid: a large, 1in sensor, 4K video recording, and a lens that has a bright aperture of f/1.4 at the wide end, to help with blurring backgrounds and low-light shooting. The fact that it has a relatively short zoom lens might put some off, but this does at least help it to remain pocketable.
DSLR and mirrorless
Image 1 of 5
Image 2 of 5
Image 3 of 5
Image 4 of 5
Image 5 of 5
A DSLR that's good at selfies? You'd better believe it
Type: DSLR | Sensor: APS-C | Lens mount: Canon EF-S | Screen: 3in vari-angle touchscreen, 1,040,000 dots | Max burst speed: 5fps | Max video resolution: 4K UHD at 25p
A lightweight, intuitive DSLR
Superb Live View shooting
Larger than mirrorless rivals
Relatively few AF points
This isn't the cheapest DSLR you can buy by any means, but very often it's worth paying a little extra money to get a much better range of features – and this is the perfect example. The EOS Rebel SL3 (aka EOS 250D) has Canon's top-of-the range APS-C sensor with 24.1MP of resolution and brilliant Live View shooting, thanks to a fully-articulating touchscreen display and Canon's fast Dual Pixel CMOS AF autofocus. In fact, we'd actually say this is one of the only DSLRs where composing shots with the screen is downright preferable to using the viewfinder. Canon also packs in 4K video and Wi-Fi and NFC connectivity, wrapped up in the smallest DSLR body you'll ever see. For selfies you can just flip the vari-angle touchscreen round to the front and focus and shoot just as fast as any mirrorless camera can.
Read more: Canon EOS SL3 / Canon EOS 250D review
7. Olympus PEN E-PL9
A stylish and well-featured body, with a range of smart accessories too
Type: Mirrorless | Sensor: Micro Four Thirds | Megapixels: 16.1MP | Lens mount: Micro Four Thirds | Screen: 3-inch tilting touchscreen, 1,037,000 dots | Continuous shooting speed: 8.6fps | Max video resolution: 4K | User level: Beginner
Lovely retro design
Touch-sensitive screen
Smaller sensor
NFC not included
The beautifully stylish Olympus Pen E-PL9 was clearly designed to tempt younger users away from photographing with smartphones, and as such it of course is equipped to take a good selfie. Its tilting screen provides lots of rich detail, while the images it produces are easily superior to most smartphones, and to be honest they're on par with a lot of larger-sensor DSLRs and mirrorless cameras that supposedly outpace it. Designed with retro charm, and coming with a range of useful accessories, the Pen E-PL9 is a seriously powerful camera hiding behind an exterior that's all style. Best of both worlds!
Read more: Olympus PEN E-PL9 hands on review
8. Panasonic Lumix GX800
Plenty of features shoehorned into a tiny shell makes this a winner
Type: Mirrorless | Sensor: Micro Four Thirds | Megapixels: 16MP | Lens mount: Micro Four Thirds | Screen: 3-inch articulating touchscreen, 1,037,000 dots | Continuous shooting speed: 10fps | Max video resolution: 4K | User level: Beginner/enthusiast
4K video
Diminutive, lightweight body
Battery life could be better
No NFC
Yep, another Panasonic model, but it makes the list for good reason. The company has focused strongly on delivering small but fully featured cameras in recent years, and the GX800 blends its small form and flip-up screen with the option to use different lenses from the ever-growing Micro Four Thirds lens stable. You can change the focus of the background, apply Soft Skin and Creative Filter options, and set for a number of shots to be taken in quick succession, with a large countdown timer displayed before it all starts. You can even capture selfie panoramas and use the Buddy Shutter option described above if you're with a friend. The only real downside to the camera's small size is the 210-shot battery life, but with USB charging you can still keep it juiced up conveniently while on the move.
Image 1 of 6
Image 2 of 6
Image 3 of 6
Image 4 of 6
Image 5 of 6
Image 6 of 6
9. Canon EOS M50
The mirrorless EOS M50 is smaller, cute and won't cost a fortune
Type: Mirrorless | Sensor: APS-C size | Megapixels: 24.1MP | Screen type: 3.2in vari-angle touchscreen LCD, 1.04million dots | Viewfinder: EVF, 2,36million dots | Maximum continuous shooting speed: 7fps | Max video resolution: 4K | User level: Beginner
Vari-angle touchscreen
Built-in electronic viewfinder

Limited lens range
4K video limitations
With the EOS M50, though, we think Canon has hit the sweet spot for selfie fans, with a camera that's easy to use for beginners but has an electronic viewfinder (so that you're not just reliant on the rear screen for composing pictures) and is being offered at an affordable price. The key component is the vari-angle screen that can flip round to face the front, or just about any other angle. The EF-M 15-45mm f/3.5-6.3 IS STM kit lens has a retracting mechanism to make the camera smaller to carry around when it's not in use, and there is a small but handy selection of other EOS M lenses you can use with this camera. Be aware, though, that Canon's speedy Dual Pixel CMOS AF system doesn't work when shooting in 4K – but it's fine for full HD video and regular stills.
Read more: Canon EOS M50 review
Read more:
• So you want the best selfies? Then check out the best camera phones right now
• These are the best cameras for beginners right now
• Going on a trip? Here the best travel cameras to take with you
• If cash is tight, check out the best budget camera phones
• The best camera for Instagram in 2019