Fujifilm has brought another instant camera to the party with the introduction of the Instax Mini 11. Available in five different colors, has a design that is based on that of the best-selling Instax Mini 9 - but adds some new refinements to the mix.
A key new feature is a Selfie Mode that uses a built-in close-up facility in the camera to take your selfies - and using the mirror on the lens for framing. This facility decreases the minimum focusing distance of the camera from 0.5m to 0.3m, making this a useful facility for detail shots too.
Also new is an interchangeable shutter button - a pair of stickers that allow you to customize the look of your instant camera. A glow-in-the-dark shutter button, or a 'jewel' in a color to match the camera, are the two options you get. The camera also has a 'rounder, softer, modern and compact look' than the popular Instax mini 9 – as well as being about 5% smaller.
The exposure has also been improved by the addition of an auto metering system that adjusts the shutter speed. The Instax Mini 9 had a fixed shutter speed of 1/60sec, but the mini 11 offers a range from 1/2 to 1/250sec. This variable shutter speed is particularly useful with lowlight flash images – as the camera can combine a longer shutter speed to avoid ugly black backgrounds, and giving you a better view of the surroundings.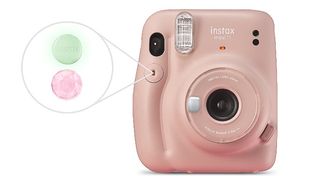 Specifications
Film type: Fujifilm instax mini instant film
Lens: 60mm
Closest focusing: 0.5m (0.3m in selfie mode)
Shutter speeds: 1/2sec - 1/250sec
Film developing time: 90 secs
Power: 2x AA batteries
Dimensions: 107.6×121.2×67.3mm
Weight: 293g (without batteries, strap, and film)
Pricing and availability
The Instax mini 11 will be available in five pastel tones – Blush Pink, Sky Blue, Charcoal Gray, Ice White, and Lilac Purple. These will go on sale from 05 March for a recommended price of $69.99 / £69.99 / AU$109.
Read more:
The best instant cameras today
Best portable printers for photos
The best camera for kids in 2020
Cheap Instax film deals