The GoPro MAX is rather special. If you were excited by the new GoPro Hero8 Black, the GoPro MAX will rock your world… actually, it won't, it'll keep it incredibly steady with its new, unshakable, HyperSmooth Max stabilisation.
On paper, this camera is epic, replacing the GoPro Fusion, which we weren't exactly mad about, and making 360-degree footage more accessible than ever before. It's definitely one of the best GoPro cameras, as of today, but will it make our list of the best 360 cameras? For sure, though we need to test it properly to find out how near the top it gets.
Complete with a new app experience, you can now sweep across 360 scenes, zooming in and out, so you needn't lug around a VR headset to get the most out of your omnidirectional capture.
The Max is definitely no one-trick pony though, doubling up as a traditional action cam, and just like the DJI Osmo Action, a selfie vlogging cam, with the rear camera and screen capable of working in tandem. After three days with this category crushing GoPro, here's what we think.
• Read more: these are the best action cams right now
Key features
Replacing the GoPro Fusion, the Max is primarily a 360-degree camera, shooting 5.6K footage in all directions. When using it as a traditional action camera though, it can't quite stack up against a standalone Hero8 Black, with its resolution capping out at 1080p 16:9 or 1440p 4:3.
On the plus, it does offer a bit more versatility, shooting across four digital focal lengths: 13mm, 16mm, 19mm and 27mm. It also has a smart feature called horizon levelling. When fired up, content is always facing the right way. We literally threw the camera in the air, spinning it in the process and the picture didn't even tilt. Advanced users will also benefit from ProTune, giving you control over the video's bitrate, shutter speed, white balance, and more, so despite not having a cinematic look out of the camera, it's nicely customisable.
Despite its resolution, single-lens footage looks good, with respectable clarity for Full HD content. You mainly notice the resolution limitations, ironically, when you shoot at 5.6K. Pinch and zoom in on this footage and things do pixelate, which is to be expected. Given how much the app interface lends itself to zooming in and out of 360-degree footage to add a sense of movement, it's something to be very aware of.
Meanwhile, the stabilisation HyperSmooth Max, the stabilisation in all three shooting modes is nothing short of stellar.
Build and handling
Just like the Hero8 Black and Hero7 Black before it, the Max has a matte rubberised body. This time, there's a lens either side, though a screen on just one, and this GoPro features no less than six microphones dotted around its body, so it can record directional audio.
At the top of the Max is a record button which can fire up a customisable recording preset from cold. To the left is a power/mode button that switches on the camera and cycles through shooting modes, and there's a battery flap too, which is where you'll find the microSD card slot and USB-C port.
As introduced across the Hero8 line, the ingenious flip-out mounting arms found on the Black pop out of the base of the Max.
It's bigger than the Hero8 Black, so doesn't support the same Mods as introduced on the Hero8 which is a shame, though with those six mics its standalone audio is decent, so there's less need for external solutions.
Another point to note; the Max's lenses aren't quite as scratch-resistant as those of the Hero8 Black, which GoPro has called its toughest glass to date – and unlike the Hero7, they aren't protected by removable lens caps. On the plus side, in the box, you'll find some rubber lens guards for when the camera isn't in use.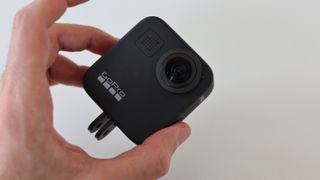 Performance
We can only give early impressions of this camera's performance. A full assessment will have to wait until we get a production sample in for full testing.
Just like the Hero8 Black, the Max pairs with the Android and iOS GoPro app. When editing 360-degree footage with it, you can transform crystal orb-style footage into something that looks incredible on a flat-screen. Using keyframes, the app processes out footage that smoothly pans and zooms across your video, making incidental, unintentional capture look seriously special.
As for the battery life, with its 1600mAh capacity, a bit of 360-degree shooting, vlogging and smartphone pairing should be doable on a full charge, though for any more sustained use, pack a spare or a USB-C power bank.
Early verdict
After a few days with the GoPro Max, while we're not calling it just yet, it's impossible to not be impressed with the innovation here. GoPro has taken a type of video that was nigh-on useless for most people – 360-degree footage – and turned it into what could be the next big thing for YouTubers. The Max is also a solid action cam too and does a good job of casual vlogging. While we would have loved 4K single camera capture, therefore, for the most part, this is a solid win for GoPro and content creators everywhere. Will it topple the mighty Insta360 Evo and One X in our best 360 cameras buying guide? We'll let you know when we've tested it properly!
Read more:
• These are the best 360 cameras to get right now
• Looking for the best action cam? Here's our top picks
• These are the best GoPro cameras to get