After months of leaks, GoPro has officially announced its latest action camera: the GoPro Hero8 Black, which is 14% lighter, has a camera with a "2x stronger lens", features a built-in foldaway mount, a slew of expansion Mods, and now features image stabilization all the way down to 240 frames per second.
The basic capture capabilities of the GoPro Hero8 Black remain largely the same; its 12MP camera can record 4K video up to 60 fps and 1080p video at up to 240fps, though it has received numerous upgrades on the software side to improve its performance in use.
• Read more: Best GoPro accessories
However, its new features make this the best GoPro camera out there. The real highlight is HyperSmooth 2.0, which doesn't necessarily improve the already solid 3-axis image stabilization but enables you to use it at all resolutions and all frame-rates – including the 8x slow-motion made possible by the 240fps shooting at 1080p.
HyperSmooth 2.0 also has another cool function: Boost, which is an in-app function that automatically levels the horizon. The similarly improved TimeWarp 2.0 now features automatic rate adjustment, which auto-adjusts to your speed, as well as tap-control speed ramping that slows down with a simple tap.
RAW shooting has now been expanded to all modes, including time-lapse and burst photos. The built-in Digital Lenses enables you to seamlessly swipe between the four fields of view: SuperView, Wide, Linear and Narrow.
GoPro Hero8 Black Mods
A selection of new expansion Mods turn the GoPro Hero8 Black into a modular system that makes an ideal video or vlogging setup, whatever you're shooting.
The GoPro Media Mod features a shotgun microphone with directional audio, a USB-C port, HDMI-out port and a 3.5mm external microphone jack. Crucially, it also possesses two cold shoe mounts to attach the other new Mods.
The Display Mod is a folding front-or rear-facing 1.9-inch screen, which mounts to the top of the Media Mod. The Light Mod, meanwhile – which GoPro claims is "the world's most versatile light" – mounts to the top or side of the Media Mod, is waterproof to 10 meters, and comes with a diffuser.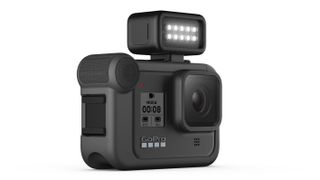 The GoPro Hero8 Black is available for pre-order now, and begins shipping on 15 October if you pre-order from GoPro, before hitting select retailers on 20 October. It retails for $399.99 / £379.99, and GoPro is currently offering a free microSD card with every purchase
The Media Mod and Display Mod cost $79.99 / £79.99 each, with the Light Mod selling for $49.99 / £49.99.
Read more:
The 25 best GoPro accessories
Best GoPro alternatives
GoPro Hero7 review: Black vs Silver vs White
The best gimbals for your iPhone, GoPro and camera