For those investing in their first interchangeable lens camera, a DSLR is still the cheapest option, and with the EOS 4000D – also known as the Rebel T100 in North America and the EOS 3000D in the Asia-Pacific region – Canon has aimed to get the price down lower than ever. It's one of two new entry level cameras announced by Canon, and the other is the slightly more upmarket EOS 2000D (aka Rebel T7).
These two cameras have broadly similar specifications, but differ in some important key details. It's easiest to think of the EOS 4000D as a whole new model with whole new levels of economy, and the EOS 2000D as an improved replacement for Canon's previous cheapest model, the EOS 1300D (aka Rebel T6). Here, we focus on the former of the two.
So does the EOS 4000D's knock-down price make it the best cheap camera you can buy? Not necessarily.
Canon EOS 4000D: Key features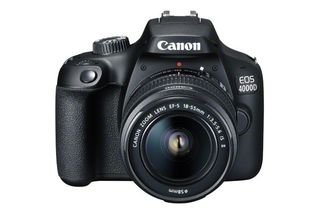 18MP APS-C CMOS sensor
DIGIC4+ processor
ISO 100-6400 (exp. to 12800)
Full HD (1080p) video recording, up to 30fps
Video Snapshot mode
3fps burst mode
9-point AF system
Pentamirror optical viewfinder, approx. 95% coverage
2.7in LCD, 230k dots
Wi-Fi (no NFC)
500-shot (approx.) battery life
SD/SDHC/SDXC memory card slot
The EOS 4000D offers an APS-C sensor, a 9-point autofocus system with a single cross-type point, Full HD video recording, 3fps continuous shooting, an ISO range of 100-6400 (expandable to ISO 12,800) and a fixed (non-articulating) rear screen. The specs are basic, but adequate for beginners in DSLR photography.
Unlike the 24.1MP EOS 2000D, however, Canon has opted for an 18MP APS-C sensor here. The rear screen on the EOS 4000D also measures 2.7in size and has a very basic 230k-dot resolution, against the 3in 920k-dot screen of its sibling.
The camera has been designed with Wi-Fi, though without NFC, and while it can shoot unlimited JPEGs, it can only capture six Raw files in a burst. It's offered with an 18-55mm III kit lens that has no image stabilisation, one that sadly doesn't employ Canon's quiet USM or STM autofocus motors.
The EOS 4000D has a very similar size and weight to its EOS 2000D launch partner. Its plastic construction isn't a problem, though. In fact, the simplified controls and rounded contours make it quite pleasing to handle.
The camera could, however, leave existing Canon owners confused because there's no separate power switch. Instead, there's simply an 'Off' position on the mode dial. Once you know where it is, of course, it's not a problem, but it is a sign of the rather deliberate cost-cutting in this entry-level camera's design.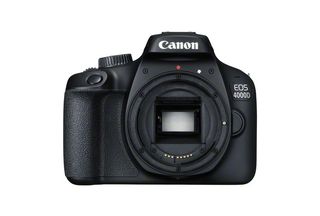 Another is the plastic lens mounting plate. We haven't seen this before – the EOS 2000D has a metal plate, like other EOS cameras. That said, it's unlikely EOS 4000D users will be the sort of photographers who do a lot of lens changing (if they do, they're probably ready to upgrade to a new camera), so wear probably won't be an issue, but it's an unexpected little feature of this camera nonetheless.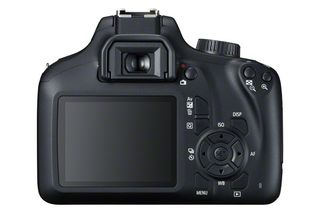 The small rear screen and its low resolution have a somewhat jarring effect too. It's been a few years since we've seen a camera with a screen like this, and while it displays your photos and the camera's menu screens like any other, it doesn't have the smoothness and detail we now take for granted – the same smooth detail that you get with the EOS 2000D's screen.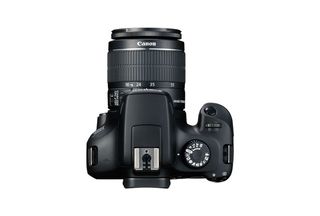 There's one more thing. If you're waiting for the flash to pop up on the EOS 4000D when you're shooting in full auto mode in low light, you're going to be waiting a long time. On this model you have to pull the flash up manually when you want to use it.
Overall, controls are basic but effective. Canon has always been good at making its entry-level DSLRs simple on the outside but still with enough direct access to camera settings and controls to keep up with owners as they develop their skills and technical know-how.
On one level, the EOS 4000D performs perfectly well. As an introduction to DSLR photography, it provides all you need: a decent sensor and enough manual control to help you develop your skills.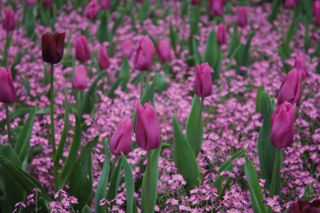 But there are some issues. First, it doesn't use Canon's sensor-based Dual Pixel CMOS AF phase-detection autofocus technology, so that in Live View mode you have to rely instead on a simpler and older contrast-detect-based autofocus. This is much slower, though it is more usable if the camera's lens has a fast, up-to-date autofocus mechanism.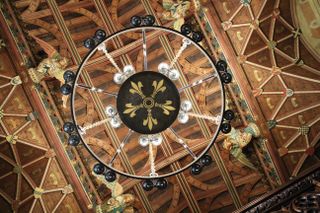 Unfortunately, the kit lens supplied with the camera does not. As a result, focusing in Live View mode is slow, hesitant and pretty noisy. That's not necessarily a problem if you're using a tripod, but it makes handheld Live View photography quite frustrating.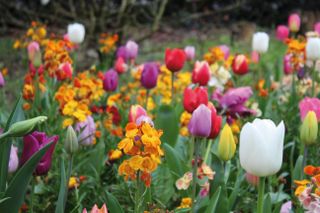 Worse yet, the camera doesn't offer continuous autofocus during filming. For anyone upgrading from a smartphone or a compact camera, this will be an unpleasant surprise. It's true that experienced videographers will often prefer manual focus, but it's not something a beginner will expect.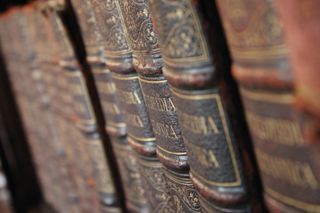 The inexpensive kit lens delivers pretty disappointing results, too. It's sharp enough for the job, but produces large amounts of chromatic aberration towards the edges of the frame and it's not easy to get rid of in software either.
Overall, while the EOS 4000D is capable of capturing good-quality images, its standard kit lens won't show its full potential. It is worth shopping around to try to get a better lens option, such as the Canon EF-S 15-85mm f/3.5-5.6 IS USM or EF-S 18-55mm f/3.5-5.6 IS STM, though this is likely to take the camera out of its bargain price bracket, which is a pity.
Signal-to-noise ratio (Raw)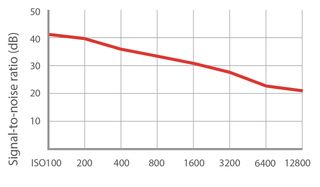 The 18MP sensor in the EOS 4000D is showing its age. Despite having a lower pixel count than the EOS 2000D, it's still a bit noisier across the ISO range.
Dynamic range (Raw)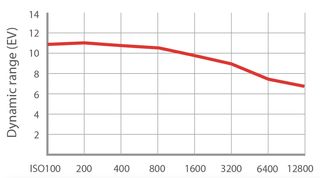 Again, the age of the EOS 4000D's sensor works against it. The dynamic range tops out at round 11EV, which is on the low side by modern standards.
Resolution (Raw, ISO 200)

The 18MP resolution shows its limits, with resolving power that's at the low end of the spectrum for this kind of camera.
Colour error

It's good news here for the EOS 4000D, which returns with a relatively low colour error in our lab tests.
Verdict
Everyone loves a bargain, and there's no denying that the EOS 4000D represents great value for money. Over time, we would expect the EOS 4000D's price to fall to perhaps the lowest point ever for a Canon DSLR, but there is a downside. To achieve these prices Canon has resorted to relatively old technology, low-spec autofocus and cheap kit lenses.
Rivals
Canon EOS 2000D / Rebel T7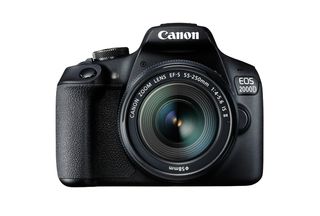 The EOS 2000D is identical in most respects, although it has a 24.1MP sensor, a metal lens mount, Wi-Fi and a higher-resolution LCD screen among other changes.
Canon EOS 1300D / Rebel T6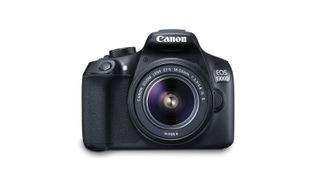 This older model has a larger LCD screen and NFC as advantages over the newer EOS 4000D, and is currently priced very similarly.
Nikon D3400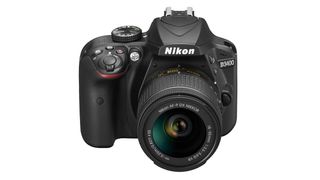 Nikon's entry-level offering boasts a 24MP sensor and a better LCD screen than the EOS 4000D's, together with 5fps burst shooting and an 11fps AF system.
Canon EOS 4000D key specs
18MP APS-C CMOS sensor
DIGIC4+ processor
ISO 100-6400 (exp. to 12800)
Full HD (1080p) video recording, up to 30fps
Video Snapshot mode
3fps burst mode
9-point AF system
Pentamirror optical viewfinder, approx. 95% coverage
2.7in LCD, 230k dots
Wi-Fi (no NFC)
500-shot (approx.) battery life
SD/SDHC/SDXC memory card slot
Read more
The best Canon lenses
The best DSLR cameras
The best camera for beginners