Canon has designed what could be the next evolution of silent shooting modes: haptic feedback for cameras. Specially, a camera that looks a lot like a Canon EOS R1.
Plenty of cameras these days have silent shooting, which is made possible by mirrorless technology. However, the issue is one of feedback; especially on one of the best sports cameras with blackout-free viewfinders, it can be very hard to tell when a photo is actually being taken.
This is where haptic feedback comes in. This is the same technology featured in everything from smartphones to laptops to PlayStation controllers, which creates tiny vibrations to provide tactile responses – usually to confirm control inputs. The "click" when you press the touchpad on a MacBook, for example, is generated by a piezoelectric actuator.
Implemented in a camera body, it would give physical feedback to let you know when the shutter is firing even when it's silent – which sounds like music to the ears (well, vibrations to the fingertips) of anyone who shoots in noise-free environments.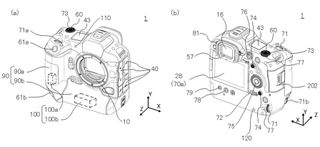 Indeed, it would even be an elegant replacement for the artificial shutter sound created by cameras like the Nikon Z8 and Z9. Neither of these cameras has a mechanical shutter, so the camera "click" is completely simulated – but in a loud environment, you can't really hear it. Haptic feedback would replicate the physical vibration of physical mirrors in old DSLRs.
The new design, as reported by Canon Rumors, is depicted in what looks to be a 1-series or 3-series body. So we could well be looking at a feature of the upcoming Canon EOS R1, or perhaps a successor for the Canon EOS R3. Either way, this "pro DSLR" form factor presents an additional challenge, because the camera can be held in two different ways with your hands in two different positions.
As such, the design patented by Canon places tiny motors in both hand positions – the vertical and horizontal camera orientation. It will detect which hand position is being used and provide feedback accordingly.
Like any patent, there's no guarantee that this ever sees the light of day in a production model. But it's a fascinating solution to a current problem, and would be a fantastic feature to see when the R1 finally breaks cover.
Take a look at the best Canon cameras, along with the best Canon RF lenses for mirrorless and the best Canon DSLR lenses.