It's only been two months since Black Friday 2021 deals ended and, to be honest, we didn't see an offer this good even then – there's a massive 44% off the listed price of the Nikon Z7 on Amazon Australia right now!
There's a small catch though – while the offer is hugely tempting and one of the best prices we've seen for the body of Nikon's first high-res full-frame mirrorless camera, this discount is only available on an international version. That means you're not going to get any warranty. The camera is being shipped and sold by a third-party reseller on Amazon, but rest assured that DigiDirect is a reliable Aussie retailer.
And even though it's not listed as Prime eligible, there's still free delivery available if you're comfortable with the purchase that comes without a warranty.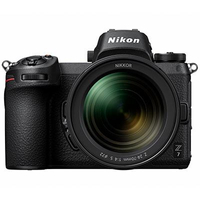 Nikon Z7 (body only) | AU$4,599 AU$2,557 on Amazon AU (save AU$2,042)
This is about as close to half price as we can get with camera discounts – 44% off is massive. Sure, it's an older model but Nikon has been pushing firmware updates to make this high-res body as good as the new one. So if you're on a tight budget but eager for a 45.7MP camera, you can't go wrong with this. Note that this offer is on an imported version of the body from a third party and does not qualify for a warranty.
If you'd prefer Aussie stock that comes with warranty, and if you can make your budget stretch a touch more, then you can actually get the Nikon Z7 body directly from DigiDirect where it's listed at 40% off the ticket price. Eagle-eyed readers will spot that the RRP listed on Amazon and DigiDirect are slightly different, but they're not too far off the mark – Nikon lists the Z7 body at AU$4,649 on its own online storefront.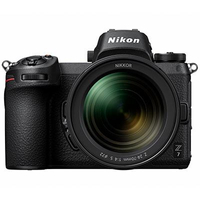 Nikon Z7 (body only) | AU$4,699 AU$2,819.40 at DigiDirect (save AU$1,879.60)
This is not as good a deal as the above offer, but as it's local Australian stock, it will get you a warranty... and 40% off is not to be scoffed at, this is a great price for the Z7 available directly from one of Australia's major camera retailers.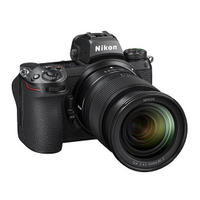 Nikon Z7 + Nikkor Z 24-70mm f/4 | AU$5,599 AU$3,359.40 at DigiDirect (save AU$2,239.60)
If you're just getting started with a full-frame mirrorless camera, then it's quite economical to pick up a kit that comes with at least one lens. And this single-lens kit for the Z7 – also available directly from DigiDirect – will see you save a pretty penny while nabbing you a really good standard zoom. This is another 40% discount on the ticket price, so it's definitely worth considering.
Why buy the Nikon Z7?
It might have been replaced by the second generation Nikon Z7 II, but the upgrade, while important, isn't all that necessary unless you really want dual card slots. Nikon has been pushing firmware updates regularly to the Z7, making it almost as good as the Mark II model, with minor differences.
So, what do you get for your hard-earned money with the Z7?
Along with its 45.7MP megapixel CMOS full-frame sensor and 9fps continuous shooting, the Nikon Z7 is also capable of producing 4K video and 1080p slow-motion at 120p, and native 64-25,600 ISO that's expandable to 204,800 making this a great option for any budding photographer.
Videographers need not fear as the Z7 is equipped with a 5-axis optical in-body stabilization along with 10-bit N-Log, 493 focus points, and built-in Wi-Fi and Bluetooth connectivity, making the Z7 a great choice to start off your career in video.
Read more:
Nikon Z6 review
Nikon Z6 II review
Best Nikon camera
Best Nikon lenses
Best Nikon Z lenses