Canon has announced the Canon RF 70-200mm f/4L IS USM – the world's shortest and lightest 70-200mm f/4 lens, at just 119mm when collapsed. That's the same size as a soda can!
The Canon RF 70-200mm f/4L IS USM is, like its trinity counterpart the Canon RF 70-200mm f/2.8L IS USM, a variable length optic that extends as you zoom to its full 200mm focal length. At its full extension, it's about the same length as the Canon EF 70-200mm f/4L IS II USM – the brilliant 2018 DSLR lens that this new mirrorless optic effectively replaces.
The new RF lens is 32% smaller and lighter than the EF version – "a size and weight reduction that was previously impossible", according to Canon – weighing in at just 695g compared to its predecessor's 780g.
The RF 70-200mm f/4L is shorter, but is broadly the same size and weight as the Canon RF 24-105mm f/4L IS USM – and it uses the same 77mm filter thread, making them a great set of companion lenses for photographers looking to travel light while covering a large focal range.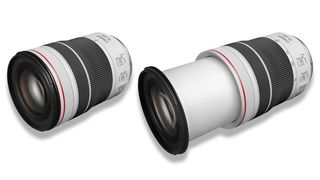 Like the f/2.8L version, this lens features Canon's floating mechanism dual Nano USM system. This provides high performance at high speed that's both quiet and controllable, with high speed AF that's ideal for both stills and video – and for the latter, this system dramatically suppresses focus breathing.
Also like the f/2.8L version, however, the RF 70-200mm f/4L is not compatible with the Canon Extender RF 1.4x and Canon Extender RF 2x, as the protrusions of these teleconverters will not physically fit – a compromise in order to accommodate the small design of these optics.
An image stabilized lens, it will deliver 5 stops of compensation when used on non-IBIS bodies like the Canon EOS R and Canon EOS RP. When mounted on the Canon EOS R5 and Canon EOS R6, though, it offers 7.5 stops of stabilization.
As an L-series lens it is fully weather sealed, with vibration and shock-resistant construction. Like Canon's other "big whites" it features head shielding paint, with fluorine coating on the front element and – as with all Canon RF lenses – a customizable control ring.
The Canon RF 70-200mm f/4L IS USM goes on sale in December and will carry a retail price of $1,599 / £1,699.99 / AU$3,079.
US: Pre-order the Canon RF 70-200mm f/4L IS USM at Adorama
US: Pre-order the Canon RF 70-200mm f/4L IS USM at B&H
Read more:
Best Canon RF lenses: the best lens for the Canon EOS R system
Canon RF 70-200mm f/2.8L IS USM review
Canon EF 70-200mm f/4L IS II USM review
Canon RF 24-105mm f/4L IS USM review