UPDATE: The first photo of the upcoming Sigma 150-600mm F5-6.3 DG DN OS FE has leaked, giving us a glimpse at the exciting new mirrorless glass – although "glimpse" really is the operative word.
The leaked image (below) is an extreme close-up, which only really confirms the lens' name – the DG D(N) nomenclature proving that it is a full-frame mirrorless lens, and an update of the DSLR-designed Sigma 150-600mm f/5-6.3 DG OS HSM | S.
• Read more: Best 150-600mm lenses
More revealing than the image, though, are the first leaked specs of the lens – both shared by Sony Alpha Rumors. According to the site, these are the specifications of the new Sigma 150-600mm:
• Lens configuration of 25 elements in 15 groups
• Minimum shooting distance of 58cm-280cm
• Maximum shooting magnification of 1: 2.9 (at 180mm)
• 9 aperture blades (at 180mm) (Circular aperture)
• Filter size φ95mm
• Size φ109.4×263.6mm
• Weight 2100g (including tripod mount)
• Teleconverter (TC-1411 / TC-2011) seems to be compatible.
• ¥170,000 excluding tax (approximately $1,550 / £1,140 / AU$2,120)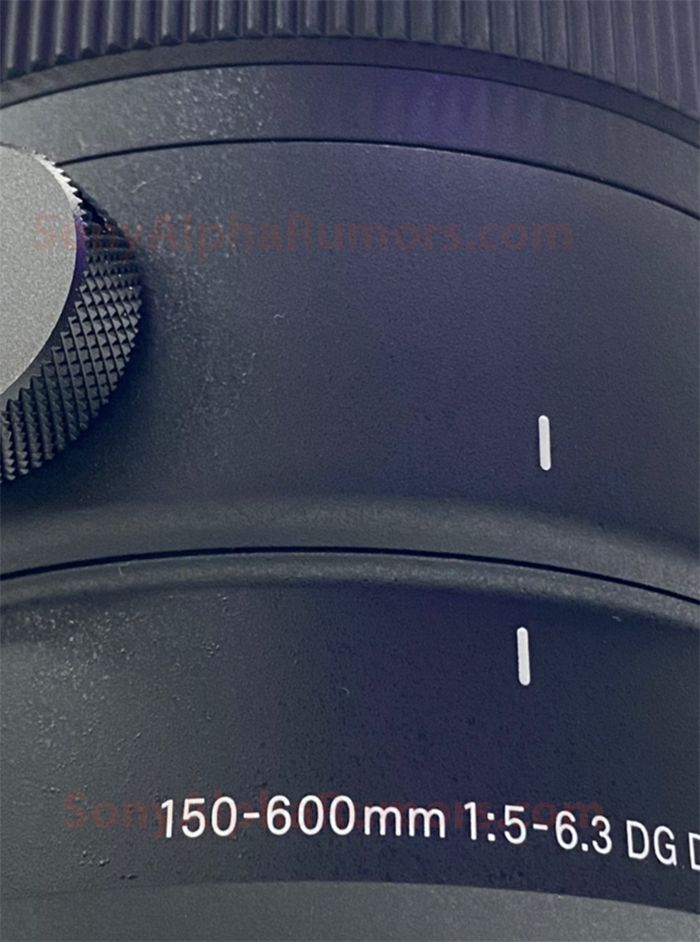 ORIGINAL STORY (09 Jul 2021): The next lens released by Sigma will be the Sigma 150-600mm F5-6.3 DG DN OS | Sports – a mirrorless version of one of its most impressive optics.
A heavy hitting heavyweight, the existing Sigma 150-600mm f/5-6.3 DG OS HSM | S is the best 150-600mm lens on the market right now – though it's not currently available for mirrorless mounts, only being an option for Canon EF and Nikon F (and Sigma SA) shooters. 
That's all set to change, though. According to a new report from ever-reliable leaker Nokishita, mirrorless owners will soon be getting their very own version of the lens as well.
"The next lens that Sigma will announce will be '150-600mm F5-6.3 DG DN OS | Sports'," writes the outlet. No mounts were listed, though we're crossing our fingers that this will be the first Canon RF and Nikon Z lens from the manufacturer – and given that the original optic also came in a Sigma mount, it would make sense for the new DN (mirrorless) version to be released for the L mount too, and for the Sony E mount. 
We're sure that there will be refinements not just to the optical formula, but also to the size and weight of this hulking hunk of 2,860g glass. That said, we'd still be happy even if Sigma just changed the mount so that the same DSLR version could be used on mirrorless cameras. 
The current Sigma 150-600mm f/5-6.3 DG OS HSM | S is built for speed and optimum performance, inside a pro-grade chassis. The whole of the front section is a lot larger than in Sigma's Contemporary class lens, and contains two rather than one top-grade FLD elements to boost image quality. 
Advanced features include weather sealing, a manual override focus option, dual-mode stabilization, a zoom lock that works at any focal length marked on the barrel, with customizable autofocus and stabilization via Sigma's USB Dock. 
No pricing or release date were suggested, but with two new sports cameras on the way this year (the Canon EOS R3 and Nikon Z9) we shouldn't have too long to wait.
Read more: 
Best Canon lenses
Best Canon telephoto lenses
Best Nikon lenses
Best Nikon telephoto lenses