After weeks of leaks, the Sigma 150-600mm F5-6.3 DG DN OS | Sports has finally been announced by the manufacturer for E-mount and L-mount cameras.
This means that the Sigma 150-600mm F5-6.3 DG DN OS | Sports – a mirrorless equivalent to the existing Sigma 150-600mm f/5-6.3 DG OS HSM | S for Canon, Nikon and Sigma DSLRs – is now available for full-frame Sony, Panasonic, Leica and Sigma camera bodies.
• Read more: Best 150-600mm lenses
Like the exceptional DSLR version, this ultra-telephoto lens is ideal for wildlife, sports, motorsports and other action photography. However, it has been designed and built specifically for mirrorless cameras (including high-resolution models such as the 61MP Sony A7R IV and the manufacturer's own Sigma fp L) and is both 760g and 26.6mm shorter.
It can be used with Sigma's 1.4x and 2x teleconverters for L-Mount bodies, delivering effective autofocus up to an enormous 1200mm. In addition it boasts optical stabilization for an effective 4 shutter stops of shake compensation, ensuring rock-solid stability even at maximum zoom (which features a Dual Action Zoom system for straight and ring zoom).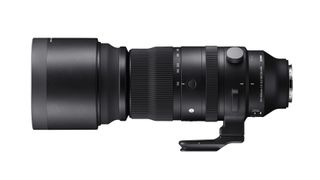 The new 150-600mm boasts 25 elements in 15 groups, and according to Sigma "includes a range of special types of high-performance glass that ensures thorough control of different types of aberrations. This helps give images the resolution and clearest detail – not only at the tele end around 600mm, which is critical for an ultra-telephoto zoom, but also throughout its entire zoom range – with no compromise."
It boasts dust and splash-resistant weather sealing, with three customizable switches for bespoke shooting that befits your style – and as it's compatible with the Sigma USB Dock, on L-Mount systems you can also set a custom focusing limit.
The 9 aperture blades complement the exaggerated focal lengths for pleasing defocus and bokeh, with a minimum focusing distance of 58cm at the wide end and 280cm at the telephoto end. While it's less bulky than the DSLR equivalent, it's obviously still a beast of an optic weighing 2,100g (including the tripod socket with removable foot) and measuring 109.4mm x 263.6mm.
The Sigma 150-600mm F5-6.3 DG DN OS | Sports goes on sale 27 August for $1,499 / £1,199.99 (approximately AU$2,256.05).
Pre-order the Sigma 150-600mm F5-6.3 DG DN OS | Sports at B&H (US)
Pre-order the Sigma 150-600mm F5-6.3 DG DN OS | Sports at Park Cameras (UK)
Pre-order the Sigma 150-600mm F5-6.3 DG DN OS | Sports at Wex (UK)
Read more: