The Canon EOS RP is Canon's cheapest full frame mirrorless camera, and we like it a lot. The 26MP sensor is not the latest, but it can still shoot super-sharp and detailed images, and we really like this camera's compact size and flip-out vari-angle screen. It's the ideal introduction to Canon's EOS R camera range, and you can always move on to more advanced models later if you get bitten by the bug.
Normally, you would get this camera with Canon's general purpose 24-105mm kit lens, but this Amazon Prime Day deal includes the Canon RF 35mm f/1.8 Macro IS STM lens instead. This is a really interesting lens because it works both as a regular fast semi-wideangle lens for general use, but can also shoot extreme close-ups – so it's ideal for nature lovers.
• Remember, Amazon prices can change, so while these deals are correct at the time of writing, prices and availability may alter. Find out how to join Amazon Prime, see the main Digital Camera World Amazon Prime Day deals article for more deals, and visit T3 or TechRadar for Prime Day deals across a whole range of tech products, not just cameras.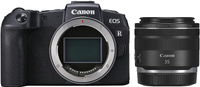 Read more:
• Best Canon cameras
• Best mirrorless cameras
• Best full frame cameras