Want to get your hands on one of the best Micro-Four-Thirds cameras available? B&H is offering the Olympus OM-D E-M1 Mark II and 12-200mm lens for just $1,599, that's a saving of $400 – talk about a Black Friday camera deal that's not to be missed!
This Olympus OM-D E-M1 Mark II deal comes bundled with the M.Zuiko Digital ED 12-200mm f/3.5-6.3 lens. The camera itself sports a 20.4MP sensor and is powered by Olympus' TruePic VIII processing engine.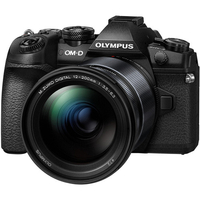 The camera's 5-axis image stabilization system is capable of compensating for up to 6.5 stops (with compatible lenses) and with the jaw-dropping ability to deliver burst shooting at a blistering 60fps, the Olympus OM-D E-M1 Mark II is able to keep up with the very fastest of subjects. If that wasn't enough, the camera also features 4K UHD and Cinema 4K video recording.
Black Friday deals:
The best Black Friday camera deals in 2019: here are all the biggest savings!
B&H Black Friday 2019: the best deals on cameras and photo gear available now!