If you're security-minded and keen to protect your home, video doorbell cameras are the next logical step. Functioning like a home security camera, video doorbells are able to stream and record footage of what's happening on your doorstep so that you can always feel confident that your home is being kept safe. Luckily, one of the best doorbell cameras on the market, the Ring Video Doorbell Pro, is currently on offer.
The Ring Video Doorbell Pro is currently being sold in a bundle with the Chime Pro for just $179, which is a $120 discount from its original price of $299! With 1080p video resolution, night vision functionality and a 160º field of view, the Ring Video Doorbell Pro is a fantastic piece of tech that's now available for an equally fantastic price.
• Read more: Everything photographers need to work from home
Meanwhile the Chime Pro functions as a Wi-Fi extender for Ring devices, which means that you can link compatible Ring devices together for better Wi-Fi coverage and instant notifications. It offers multiple alert tones, volume control and a do not disturb mode.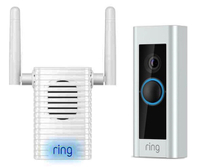 Read more
Best baby camera monitors
Best indoor security cameras
Best outdoor security cameras
Best pet camera: talk and play with your dog or cat when away from home
Ring camera deals - a guide to the Ring range