Samyang has become the first third-party manufacturer to produce an autofocus lens for the Canon EOS R system, with the Samyang AF 14mm F2.8 RF. The lens will also be available as the Rokinon 14mm F2.8 AF Canon RF in North America.
It will also be the widest autofocus lens available for the RF mount, as the Samyang AF 14mm F2.8 RF is a millimeter wider than Canon's wide-angle 15-35mm L-series lens. This makes it both the widest AF lens and the widest AF prime lens for the EOS R and EOS RP, as well as the first not made made by Canon.
"The world's first AF 14mm F2.8 for RF mount is designed for users to enjoy a broader perspective in mirrorless cameras. The compact lens design dedicated to mirrorless cameras is packed with 113.9 degree of broad angle of view and fast and precise autofocus function," says the manufacturer.
Of course, the company already produces a manual focus version of this lens, the Samyang MF 14mm f/2.8 RF. However, the new autofocus alternative is smaller and lighter at just 95.3mm long and 484g in weight (compared to 120mm and 800g for the MF).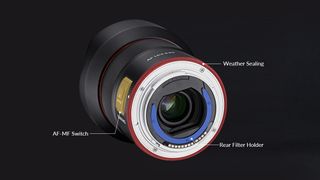 The 14 elements in 10 groups consist of 6 special lenses to reduce aberration, 3 aspherical lenses, 2 extra-low dispersion lenses and 1 high-reflection lens, all of which conspire to produce impressive image quality from corner to corner.
The Samyang AF 14mm F2.8 RF also boasts weather sealing to protect the lens from dust, light rain and snow. Intriguingly, it also comes with a mount-based rear filter holder that "gives you the choices of images you can create."
Something not mentioned by Samyang, but leaked by Nokishita, is a lens station – which will no doubt be used for hassle-free firmware updates.
The lack of native wide-angle lenses has been a bit of a weakness of the Canon RF lens roadmap, with the pricey Canon RF 15-35mm f/2.8L IS USM thus far the only autofocus option. Between its existing manual and this new autofocus 14mm f/2.8, that hole looks to have been plugged.
The Samyang AF 14mm F2.8 RF will go on sale in November, with a retail price of £629. The Rokinon 14mm F2.8 AF Canon RF is due in December at a price of £799.
Read more:
Canon RF lens roadmap
Canon RF 15-35mm f/2.8L IS USM review
Samyang MF 14mm f/2.8 RF review