Why would you opt for the manual focus Samyang MF 14mm f/2.8? If you've got a mirrorless Canon or Nikon full-frame camera body, the chances are that you've got a standard zoom lens go with it. When you need a wider viewing angle, the most obvious choices are the Canon RF 15-35mm f/2.8L IS USM or the Nikon Nikkor Z 14-30mm f/4 S, depending on which side of the divide you stand.
You might want to think again though, because the Samyang MF 14mm f/2.8 is specifically designed for Canon RF and Nikon Z mount mirrorless bodies and costs a fraction of the price. The Samyang MF 14mm f/2.8 RF is the one for the Canon EOS and EOS RP, whilst the Samyang MF 14mm f/2.8 Z is designed for the Nikon Z6 or Z7. Both are also sold under the Rokinon brand name in North America (as the Rokinon 14mm F2.8 RF and Rokinon 14mm F2.8 Z respectively).
• Read more: Best wide-angle lenses for Canon
Samyang MF 14mm f/2.8: Specs
Mount: Canon RF, Nikon Z
Lens construction: 14 elements in 10 groups
Angle of view: 116 degrees
Diaphragm blades: 6
Minimum aperture: f/22
Minimum focusing distance: 0.28m
Maximum magnification ratio: 0.08x
Filter size: N/A
Dimensions: 87x 120mm (C) 87x124mm (N)
Weight: 800g (C) 810g (N)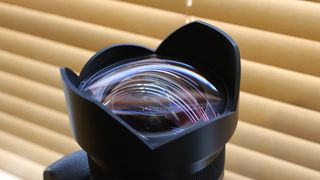 Samyang MF 14mm f/2.8: Build and Handling
Buying a manual-focus lens for the latest high-tech mirrorless cameras might sound a bit crazy but, for the most part, it's quite an elegant solution. The typically long travel of the focus ring enables very precise adjustments and, to be fair, unless you're shooting extreme close-ups near the 28cm minimum focus distance, the depth of field from a 14mm lens is so enormous that you don't need much accuracy.
You've also got the option of focus peaking in the viewfinder and rear screen, as visual aids to keeping things sharp, plus depth of field markers on the lens if you're a fan of the 'zone focusing' method. This enables you to line up the minimum and maximum distances on the focus scale that should appear sharp in the resulting image, against aperture markers on the lens barrel.
Some lenses are more 'manual' than others, and this is a particularly manual affair. It has no electronics whatsoever, so there's absolutely no communication with the camera body. In similar all-manual Samyang lenses for DSLRs, this can be an issue because stopping down with the manual aperture ring results in a progressively darker viewfinder image. That's no problem with a mirrorless body, as the brightness is maintained to deliver a 'what you see is what you get' exposure preview.
• Samyang MF 85mm f/1.4 RF / Z review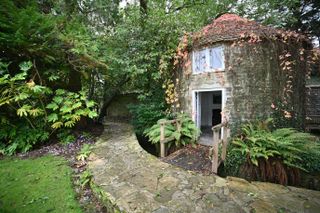 There are drawbacks, however. There's no aperture information given in the camera's viewfinder or rear screen, nor recorded in the EXIF data of images. It also means that you have to enter the lens's focal length in the 'Non-CPU lens data' section of the camera setup menu of Z 6 and Z 7, to enable in-body stabilization. Naturally, it's a moot point for the Nikon Z 50, as well as for Canon EOS R and RP bodies, which don't have sensor-shift stabilization anyway.
The smooth-action focus ring is a joy to use and there's a kind of old-world charm to setting the aperture with the manual ring. Indeed, many modern lenses have a control ring for just this purpose. Good handling is backed up with good build quality, the lens having a robust, weather-sealed construction.
Samyang MF 14mm f/2.8: Performance
Considering the down-market asking price, image quality comes as a very pleasant surprise. Despite lacking any electronics, the lens has a high-tech optical path with 14 elements in total, including both regular and hybrid aspherical elements, two ED (Extra-low Dispersion) elements and three HR (High Refractive index) elements. The net result is impressive image quality in all respects.
We tested the lens on a Nikon Z 7 body, where it delivered impressive sharpness right to the corners of the frame, even when shooting wide-open at f/2.8. Corner-sharpness improves further still when reducing the aperture by an f/stop or two, and modest levels of vignetting are practically eliminated. Barrel distortion can be noticeable but is of a very uniform nature and easy to correct, while lateral chromatic aberration is negligible.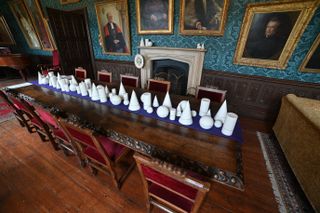 Samyang MF 14mm f/2.8: Lab Tests
Sharpness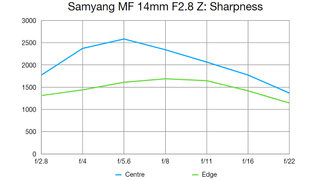 Levels of sharpness are outstanding across most of the frame and still very good in the corners, especially for such a wide-angle lens.
Fringing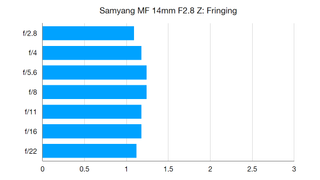 Even in the extreme corners of the frame, lateral chromatic aberration is almost entirely negligible.
Distortion: -2.5
If the lens has an Achilles heel, it's that barrel distortion can be clearly visible and benefits from correction at the image editing stage.
Samyang MF 14mm f/2.8: Verdict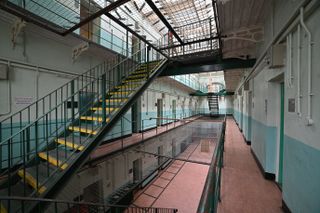 We've got so used to automatic everything in our shooting that a fully manual lens might seem a retrograde step. And yet there's something to be said for adjusting your aperture and focus manually, especially with an ultra-wide lens. More importantly, image quality is so impressive that it makes the most of even the highest-resolution Canon and Nikon mirrorless full-frame cameras, including the Z 7. For the price, you simply can't go wrong.
Read more
Best wide-angle lenses for Nikon cameras in 2019: for DSLRs and Nikon Z
Canon RF lens roadmap
Nikon Z lens roadmap: new lenses for the Z system and when they are coming
Best Canon lenses in 2019: go longer, wider and closer with your Canon camera