Photokina 2019 has been cancelled, in a surprise announcement by its German organisers. Photokina has long been regarded as the world's premiere photographic trade fair. It's been taking place at Koelnmesse in the city of Cologne every two years since 1966 and has become a regular fixture for the whole camera industry.
Last year the organisers announced it would double in frequency to become an annual event taking place in May rather than the traditional September, and this meant that Photokina 2019 would have taken place in May 2019, just eight months after the previous event.
This produced some surprise and concern amongst exhibitors and visitors. Could the industry prepare for another major exhibition so soon after the last one? Would there be enough new products to attract visitors?
The organisers seem to have taken this on board. Rainer Führes, CEO of the German Photo Industry Association (PIV) which heads up the event, says "Photokina 2018 clearly exceeded our already optimistic expectations with groundbreaking innovations and 180,000 visitors from 127 countries. As a result, we set the bar very high for the next event. It is therefore unlikely that, in May 2019 after just over seven months, we will once again be able to create the same enthusiastic atmosphere that characterised Photokina 2018. This is why we have decided to start the planned annual cycle in 2020."
This will be disappointing for fans of camera gear, beer and sausages, the three great Photokina specialities, but it certainly doesn't spell the end for Photokina itself, which should be back, bigger and stronger than ever, in 2020. In the meantime, many in the industry will welcome the news, feeling that eight months was just too short a time interval between shows.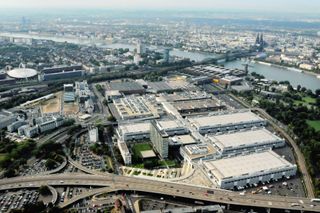 The Photography Show is coming!
But camera nuts needn't despair because the dates for next year's Photography Show have been announced. It's the UK's biggest photography event, it takes place at the Birmingham NEC from 16-19 March 2019, and tickets are already on sale.
• The Photography Show 2019: What you need to know – tickets are on sale now!