The genre-shattering Joker movie has made plenty of headlines for its aggressive depiction of societal violence and insightful commentary on mental illness. Now it's making headlines in photographic terms, too, as the film's still photography was shot using Fujifilm and Sony equipment.
Stills photography in the TV and motion picture industry has historically been the domain of full-frame DSLRs, such as the Nikon D5 and Nikon D850 favored by Game of Thrones' Principal Stills Photographer, Helen Sloan.
• Read more: Best cameras for professionals
However, Hollywood isn't immune to the industry wide shift towards mirrorless cameras. Indeed, one of the key benefits of mirrorless cameras is the ability to shoot truly silently – and Sloan noted that she was looking to go mirrorless, rather than having to shoot with sound-damping 'blimp' housings for her DSLRs.
While it is less surprising that the full-frame flagship Sony A9 is starting to find its way onto film sets, it's notable that a major studio picture like Joker is using the APS-C Fujifilm X-T2 to shoot publicity photographs.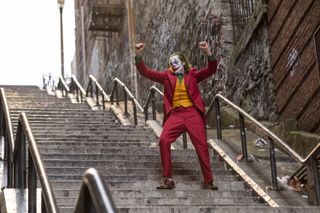 The images were taken by talented stills photographer Niko Tavernise – and, as discovered by a bit of EXIF data sleuthing by the folks at Fuji Rumors, he paired his cameras with the Sony FE 24-70mm f/2.8 GM and Fujifilm XF 50-140mm R LM OIS WR respectively.
With these images being intended for everything from magazine covers to cinema posters to billboards, it's just the latest puddin' that proves you really don't need full-frame cameras for professional work – a cropped sensor is just fine, if you know what you're doing.
Starring Academy Award nominee Joaquin Phoenix (known for films like Gladiator and Walk the Line) and directed by Todd Phillips (typically a director of shock or shlock comedy like Borat and The Hangover), the latest DC Comics cinematic effort is anything but your regular 'superhero movie', and is well worth checking out if you haven't done so already.
Even though diehard Joker fans know that he really uses a 'Witz' camera…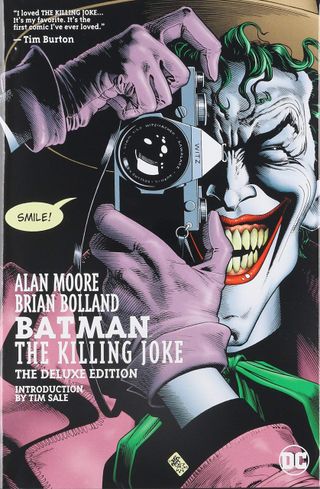 Read more:
The best cameras for professionals in 2019
The best Sony cameras in 2019
The best Fujifilm cameras in 2019