After a lot of teasing, Nikon has announced the Nikon Zf – finally bringing full frame to its vintage-inspired range of digital cameras.
This comes hot on the heels of the APS-C Nikon Z fc, released in 2021, which by Nikon's own account has been a runaway success surpassing all expectations. The market has shown a clear appetite for cameras with retro styling and manual dials aping the design of old-school film cameras, like Nikon's own Nikon FM2, which still remains a popular choice for film fanatics today.
• Read our Nikon Zf review
Not just visually inspired by the FM2, the new Nikon Zf also takes some cues in the design, with larger dials made of brass, a fully magnesium alloy metal body with an artificial leather-covered grip, as well as a leaf shutter to replicate that nostalgic film camera shooting experience.
Where the outside of the camera is made to hark back to simpler times, inside, it's a different story, with Nikon packing the Zf with some much the latest tech inherited from its most recent Nikon Z8 and Z9 flagship. The Zf has a 24.5MP FX (full frame) sensor, paired with the Expeed 7 processor found in the Z8 and Z9 cameras, which Nikon says offers improved autofocus algorithms, more file types, better in-camera vibration reduction, higher ISO of 64,000, and better video.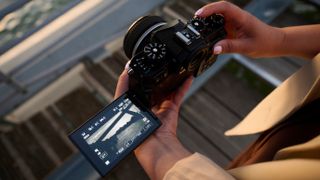 The Nikon Zf is made to shoot both color and monochrome with ease, offering a manual switch to swap between the two modes. This isn't a dedicated monochrome sensor like the Leica M11 Monochrom, but it gives a master way to get black-and-white images without the extra editing. There is also skin softening, rich tone portraits, and portrait impression balance from Nikon's previous cameras. The Zf can record in HEIF image format, too, which gives a greater dynamic range and more colors to play with in editing.
Despite its retro design, the Nikon Zf features all the modern ports: USB-C for data output and in-camera battery charging, a microphone and headphone jack, as well as a micro-HDMI port. The Zf has a USH-II compatible SD card slot but, curiously, a microSD card slot as well, which Nikon seemed to suggest makes a good backup card. The body is also dust and moisture-resistant and operates down to 32°F / 0ºC.
Autofocus
The autofocus uses the Expeed 7 processor from the Z8 and Z9, which gives it the same subject tracking options including humans (faces, eyes), animals, birds, and vehicles. The Zf has a total of 299 focus points, providing an 89% by 96% coverage of the sensor. The Zf can also employ backlit AF, using different pixels for metering and focusing in bright environments, as well as being able to focus down to -10EV.
The Nikon Zf also has a few additional tricks up its sleeve. It can use subject detection algorithms even when in manual focus or when using adapted manual focus lenses, which can help with accurate exposures based on the subject, or can be used with the new focus point VR system (more on that in a moment).
It also has pre-release capture, which starts shooting a split second before you press the shutter, so you don't miss a special moment with a slow trigger finger, and can shoot at 7.8fps in RAW/JPEG or up to 30fps in JPEG only.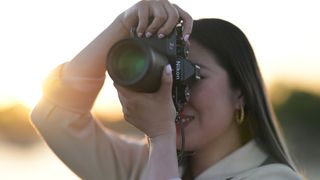 Focus point VR
New to Nikon cameras (or any camera, for that matter) is Focus Point VR, which uses the focus point to lock the in-camera VR onto that subject as you move. It isn't the most straightforward system to understand, and Nikon wasn't forthcoming with exactly how this works (likely due to IP issues) but is likely performed by predictively moving the sensor using the camera's IBIS so that the subject remains framed.
Hopefully Nikon will reveal a little more of the technology behind this as time goes on, as well as add this to the other cameras in its lineup – especially the Nikon Z8 and Z9, as this sounds like it could be a significant breakthrough in image stabilization if it works.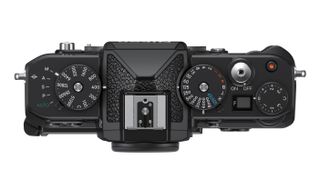 The Nikon Zf can achieve up to 8 stops of VR (vibration reduction, Nikon's term for in-body image stabilization) with compatible lenses and can use Nikon's Synchro VR. Finally, the VR system can be used to create pixel shift images by taking 4, 8, 16 or 32 images and combining them into one higher megapixel image. Nikon was unclear of the exact size during the briefing, but tentatively floated around 150MP.
Video
The Nikon Zf offers video in 4K 30p, 4K 60p, FullHD 120p, and has 8-bit or 10-bit 4:2:2 recording. It can record for up to 125 minutes before cutting out for excess heat.
For serious videographers, the Zf also has a number of key features including focus peaking, zebra stripes, waveforms in live view, a red REC border, fine ISO control, and Nikon's enhanced video info display. The Zf is also capable of recording 24-bit PCM sound via compatible recording devices.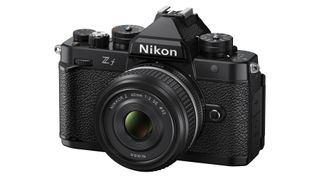 Availability
The Nikon Zf goes on sale in mid-October and will cost $1,999 / £2,299 / AU$3,499 for the body only. The Zf will be sold in two kits, the first with the Nikon Z 40mm f/2 SE lens for $2,236 / £2,519 / AU$3,999, and the second with the Nikon Z 24-70mm f/4 S lens for $2,599 / £2,849 (AU availability to be confirmed).
The Nikon Zf will widely be available in a black colorway but, if ordered directly from the Nikon store (or other partnering retailers), you can find exclusive colored leather options. Nikon will also be holding a promotion at launch with an additional grip from Smallrig in select markets, so look out for that.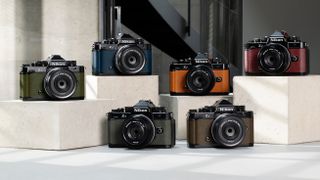 Check out our top picks for the best Nikon camera and the best Nikon lenses. Or if you are missing the days of film, then check out our guide for the best retro camera.