The Nikon FM2 35mm SLR was launched back in 1982 and arrived just as cameras were making the transition from being predominantly mechanical pieces of kit to ones that sported a number of new technologies. In fact, we'd even seen the first autofocus cameras by then in the shape of the Pentax ME-F.
The FM2 though was very much a manual camera and was a follow-up to the FM, which had arrived 5 years previously. Using the same chassis but with a number of modifications, the FM2 would go on to be a huge hit with both professionals and enthusiasts alike, with Nikon only ending production in 2001 to replace it with the FM3A.
While the FM2 was designed as a more affordable and compact alternative to Nikon's flagship range of professional F-series SLRs, it managed to outlive the likes of the F3 and F4 thanks to its fully mechanical shutter mechanism. This meant you could happily fire the shutter without any batteries, with only the metering needing a couple of button-sized cells. This made them incredibly versatile – many professionals had an FM2 tucked away in their camera bag should their Nikon F3, F4 or F5 fail.
Specifications
Lens mount: Nikon F
Exposure control: Manual
Shutter speed: Mechanical 1/4000 sec to 2 second, plus bulb
Exposure metering: Centre-weighted
Battery: 1x 3V CR1/3N lithium battery, or two 1.55V SR44 / 1.5V LR44 batteries
Dimensions: 142.5 x 90 x 60mm
Weight: 540g
Key features
One of the things that set the FM2 apart from its rivals was the fact it had a shutter speed of up to 1/4000 second, which was something pretty unique at the time. The design of the shutter was also bearing mounted for reduced friction, allowing the life of the shutter to be extended further. Not only that, but as we've touched on, the fact that it was also a fully mechanical shutter was another big tick against the FM2.
When launched, the FM2 also had a flash-sync speed of 1/200 second, but in 1984 Nikon upgraded the FM2 with a faster flash-sync speed of 1/250 second. This was thanks to a new titanium shutter borrowed from the FE2, with this newer variant known as the FM2n. However, Nikon still sold it as the FM2, and these newer models able to be distinguished by a red '250' shutter speed setting and the 'N' serial number prefix.
For metering, the FM2 used two silicon photodiode sensors that delivered a 60/40 percent centre-weighted system, which ran off either one CR1/3N battery, or two SR44 / LR44 batteries. Exposure confirmation was pretty rudimentary though, with the FM2 using +/o/- LEDs positioned to the right of the viewfinder – the FM2's sister camera, the FE2, has a more precise match-needle metering display. The FM2 also lacks an aperture priority mode that the FE2 enjoys, offering only full manual exposure control.
The FM2 was based around Nikon's F-mount, which means that there's still a huge wealth of lenses available for it. There are a couple of caveats though. It supported Nikon's Auto Indexing (AI) feature, so older non-AI lenses won't be compatible with the FM2's exposure system, and while the latest G and E designated autofocus lenses will fit on the the FM2, because they lack an aperture ring, they won't offer any exposure control. However, there's still an excellent range of F-mount lenses to suit most budgets that will seamlessly work with an FM2. Chances are you might even have one in your camera bag if you're already a Nikon shooter.
Design and operation
The FM2 featured a durable, copper-aluminum alloy chassis (technically known as duralumin), while the form-factor was much more compact than Nikon's flagship F-series SLRs. With controls falling nicely and naturally to the hand, the FM2 was available in either black or chrome finishes. However, if you were looking for something even tougher, then Nikon had the answer in the shape of the FM2/T. The 'T' stood for titanium and this was used for the bottom, top and backplates of the camera, but was almost double the price of a standard FM2.
Even at the time, the Nikon FM2 was pretty light on controls compared to some other cameras at the time. However, the stripped-back layout of the FM2 makes it a very simple and satisfying camera to use if you've got the basics of photography nailed, while the split-screen rangefinder focusing screen works well.
Verdict
So how much are you looking to pay for a nice one? Nikon specialist Grays of Westminster in London will be able to source you some limited edition models (that may even be unused), but expect to pay well into four figures. More realistically, though, and for the biggest array of choice, you'll want to look on eBay. There you can find anything from beaten up models for as little as $150 / £100, but if you want one an FM2 a nice condition, you should expect to pay upwards of $300 / £250.
The Nikon FM2 is one of those landmark film cameras. Small, beautifully made and with attention to detail, it's photography in its purest form. Even if you never put a roll of film through it (and that would be a crying shame), it's still a lovely thing to own and a must for the Nikon enthusiast.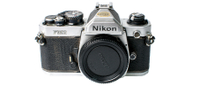 Find the Nikon FM2 on eBay.com
You can find beaten up models for as little as $150, but if you want one an FM2 a nice condition, you should expect to pay upwards of $300.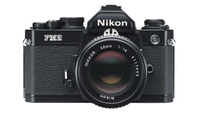 Find the Nikon FM2 on eBay.co.uk
You can find beaten up FM2 bodies for as little as £100, but if you want one an FM2 with a 50mm f/1.8 lens in nice condition, you should expect to pay upwards of £250.
Read more:
• Best film cameras
• Best film
• Best darkroom equipment
• Best film scanners
• Best Lomography cameras