Can we expect to see a Nikon D3500 released this year? As Nikon's D3400 approaches its second birthday, it becomes increasingly likely that it will be superseded by a Nikon D3500 camera sometime soon.
The D3400 has served first-time DSLR users and smartphone upgraders for the past couple of years now, and it's clearly a camera with enduring appeal. Proven technologies, combined with a fuss-free body, unusually strong battery life and compatibility with lots of excellent lenses has helped it to remain popular, while its very reasonable asking price has meant that it's still one of the first models beginners will notice.
But Canon has spent the last year or so revamping its entry-level arsenal with a slew of mirrorless cameras and DSLRs, so although many are expecting Nikon to announce a new mirrorless system first, the company will need to refresh its offering soon.
So what might the Nikon D3500 offer? No doubt a number of rumours and specs will hit us before launch, but here's what we expect to see right now.
1. New DX-format sensor
Nikon opted to use the same 24.2MP sensor in the D3400 as it did in the D3300, so it's unlikely that it will repeat itself once more with the Nikon D3500.
24MP may be more than enough for the average beginner who has no intention to print big, but even if Nikon does opt for the same sensor resolution, it's likely to be with a sensor that offers some technological improvements, such as better light-gathering capabilities and expanded dynamic range. And, once again, we expect this won't have an anti-aliasing filter in order to keep images as detailed as possible.
Another reason we're unlikely to get more than 24MP is that Nikon's current DSLR stable has the upper-entry-level D5500 and enthusiast D7500 each sporting a 24.2MP sensor, and the D500 above them knocking this down to just 20.9MP. A more populated sensor would be even more inconsistent with the camera's entry-level billing.
2. Sensor cleaning
Nikon chose to remove the built-in sensor-cleaning system from the D3300 for the D3400, which some saw as a mean move. This has, after all, been a standard part of DSLRs of all classes for some time now, and having to clean a sensor manually is definitely not something the typical user wants to spend time doing. So, having this return in the Nikon D3500 is definitely something that would make a lot of sense.
3. Upgraded autofocus system
The 11-point Multi-CAM 1000 autofocus system found inside the D3400 is perfectly serviceable, but in the face of more modern systems it's hard to consider as particularly impressive.
Sure, it might appear a touch more capable than the 9-point system that features inside Canon's EOS 2000D, EOS 4000D and EOS 200D rivals, but the latter model also incorporates Dual Pixel CMOS AF, which gives it a significant advantage when using live view or when shooting videos.
Autofocus has been one area in which Nikon has made significant gains, in models like the D850 and D500, and the novice user really deserves some improvements to filter down too.
What we would particularly welcome in the Nikon D3500 is something in between the aforementioned system and the 39-point Multi-CAM 4800 DX AF version. Perhaps something with more than one cross-type AF point (which is what we have on the D3400).
4. Touchscreen
Anyone upgrading from a smartphone, or even a modern compact camera, will expect to be able to swipe and jab at the camera's LCD screen to get things done. That's not something the D3400 allows.
The screen itself has a respectable 920k-dot resolution, and at three inches in size it's as large as we expect for a model in its class too (although the D5300, D5500 and D5600 have all had 3.2in LCD screens, which would be great to see drop down to the D3xxx line), but its lack of touch-sensitivity definitely marks it out as a last-generation model.
It's a feature that's also missing from Canon's EOS 2000D and EOS 4000D pair, but it has been included in the EOS 200D. So if Nikon wants the D3500 to be competitive, it would be odd to miss this one out. Also on the EOS 200D...
5. Flip-out LCD screen
...is a vari-angle LCD screen, which lets you shoot from up high, down low and even around corners if you ever find the need to do so.
This is a feature Nikon has integrated into its upper-entry-level D5300 and D5600, and we reckon the time is ripe for this to trickle down here.
With even more basic mirrorless cameras looking to appeal to Instagram users and general selfie-takers, it seems like DSLRs in the same bracket can only continue to omit this feature for so long.
Read more: How to use Instagram for your photography
6. Mic port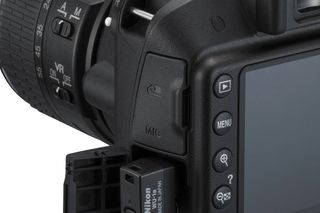 Another feature Nikon chose to drop from the D3400 was the D3300's microphone port – not something every novice user demands, but certainly nice to have.
Once again, this is something that doesn't appear in Canon's EOS 2000D and EOS 4000D, but it's incorporated into the company's EOS 200D above them, so the Nikon D3500 would be a stronger rival with this on board.
7. Better connnectivity
Nikon's SnapBridge feature, which uses Bluetooth LE technology to keep the camera paired to a smart device, has improved since its original release, but it's not quite as reliable or well-regarded as it ought to be.
The flexibility of having this alongside Wi-Fi would be very welcome on the Nikon D3500. Wi-Fi has featured in previous Nikon models alongside SnapBridge, and currently features on the likes of the D7500 and D5500, but it didn't make an appearance on the D3400. Hopefully Nikon will choose to include both on the D3500.
8. 2,160-pixel metering sensor
Nikon's D3400 makes use of a 420-pixel metering sensor, which may sound sub-standard next to more populated alternatives from other corners, but does actually do a very good job to meter the scene in practice.
Even so, the company's 2,160-pixel metering sensor has now featured inside a number of upper-entry-level models, and as more advanced models now use an even fancier 180k-pixel RGB alternative, it wouldn't be surprising to see the 2,160-pixel version take control of the Nikon D3500's metering.
9. Upgraded video specs
While it would be surprising to see 4K video make an appearance on the D3xxx class of cameras before it reaches the D5000 range, Nikon may well surprise us here. After all, not only has it now starred in a number of the company's DSLRs and action cameras, but the company also included it in the beginner-friendly 1 J5 mirrorless camera.
If it does decide to find space for it in the Nikon D3500, it will almost certainly require an updated processing engine to handle this. Again, the EXPEED 5 engine hasn't yet featured inside a DSLR more junior than the D7500 to date, so it would be quite a leap for it to surface here.
Even if we don't get 4K video, it's likely we'll see a change of some kind to video specs from the D3400. With manual control over exposure while recording and 60p shooting, the D3400 is hardly lacking, but we should see the inclusion of Nikon's Electronic VR and Flicker Reduction in the Nikon D3500, and maybe even the time-lapse feature that's found its way into other Nikon models.
When will the Nikon D3500 be released?
Nikon announced the D3300 at the start of 2014, and the D3400 two years later in August 2016. Given that Nikon has chosen to follow the traditional route of announcing products either at, or just prior to, events such as CES and Photokina, we reckon we should see official confirmation of the Nikon D3500 between August and September 2018, or at the very start of 2019.
Nikon D3500 price
Nikon's D3400 was released with an RRP of $649/£489, with its AF-P 18-55mm F3.5-5.6 VR lens, although in the time that it's been on the market its price has fallen steadily to around two-thirds of that.
We expect the Nikon D3500 will command a similar asking price at launch, although it really depends on how much of a separation it chooses to place between this and the more advanced D5xxx-series models. The company has previously said that it will focus more on the premium end of the market in future, so quite what its intentions will be for something so basic – and how that affects upper-entry-level models – is yet to be seen.
Read more: The best cheap cameras right now