With Nikon continually expanding its DSLR line-up, bringing a new entry-level model to market is harder than ever. If it's filled with features, sales of mid-range cameras are threatened, but stand still and you risk being outgunned by the competition.
A quick glance at the D3400 spec sheet reveals that Nikon has opted to play it safe and change very little from the D3300. It shares the same 24.2MP resolution and, like its predecessor, Nikon has continued to omit an optical low-pass filter in the quest for maximum image sharpness. The sensor's sensitivity is also ultimately unchanged, with a total ISO range of 100-25,600; although where the D3300 kept its topmost sensitivity as an expanded setting, the new model includes it in the standard range.
Given that the D3300 has also passed on its Expeed 4 image processor to the D3400, it's no surprise that both cameras boast an identical 5fps burst shooting rate and Full HD video recording at 60fps. The D3400's autofocus module continues the recycling theme: it's the same 11-point Multi-Cam 1000 sensor with a single cross-type point in the centre.
• Read more: Nikon D3500 vs D3400
Features
It's disappointing that the D3400 carries over all of the D3300's core specs – but its Canon arch-rival the 1300D already trailed the D3300 on sensor resolution, burst shooting rate and AF points, so it's small wonder that Nikon hasn't made the D3400 a game-changer. The only area where it needed improvement to match the competition was connectivity, so the D3400 now sports built-in wireless image sharing.
This isn't accomplished using typical Wi-Fi, but rather Nikon's new SnapBridge system, first showcased in the D500. By using Bluetooth LE (Low Energy) to maintain a continued connection between the camera and your smart device, the D3400 avoids the usual Wi-Fi bugbears of fiddly pairing procedures and dropped connections.
It's a convenient system for automatically transferring images for easy social media sharing, but it's not perfect. Images aren't offloaded at full resolution, and you can't use SnapBridge for remote camera control, and Nikon's WU-1A Wi-Fi adapter is no longer listed as an accessory. The camera is compatible with the ML-L3 infrared remote.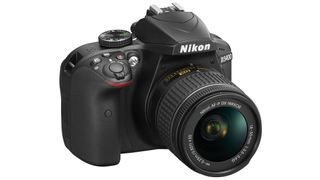 The D3400's other headline improvement over its predecessor is battery life, which has been boosted to an impressive 1,200 shots. That's a big increase from the D3300's 700-shot rating, and no mean feat considering the D3400 is still fuelled by the EN-EL14a lithium-ion power pack used in the D3300. Nikon is claiming the improvement is down to power efficiency tweaks, but that may not be the whole story…
Cipa battery life testing involves a percentage of shots taken using the pop-up flash. This has been downgraded from a Guide Number of 12 in the D3300 to a less powerful GN8, placing the D3400 behind the GN9.2 flash in the Canon 1300D.
Build and handling
Entry-level SLRs used to feel cheap, even when they cost substantially more than their modern-day equivalents. Thankfully, the D3400's material and build quality is every bit as high as the D5500's, the next step up in the range, and you'd be hard-pressed to tell the quality of its plastics and rubber inserts apart from even pricier Nikons. Obviously the D3400 has to do without a magnesium alloy internal frame, but it feels solid enough all the same. The choice of plastic construction helps keep weight down to just 445g, however, making the D3400 a full 15g lighter than its predecessor.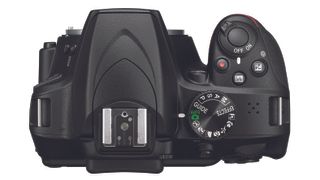 However, just as the new camera's battery performance may not be without drawbacks, the same could be true of this weight saving. Nikon has chosen not to include any image sensor-cleaning capability in the D3400, as it believes novice users won't change lenses as frequently as photographers who own more glass. While there may be some truth to this, it could also be argued that photographers new to SLRs may not be as confident with manual sensor cleaning and will sorely miss automatic dust removal.
External changes between the D3300 and the D3400 are non-existent. Both cameras use the same case design and measure an identical 124 x 98 x 76mm. It's a pity Nikon didn't reshape the D3400 to be more like the D5500, with a deeper recess between the hand grip and lens mount: people with larger paws may find the D3400's grip to be rather small. Otherwise, there's little to complain about ergonomically, with key controls like the exposure compensation button, video record button and single control dial falling within easy reach.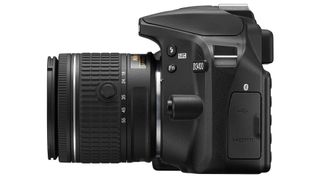 Nikon's continued refusal to add a dedicated ISO button is still frustrating: while the customisable Function button is configured by default to adjust sensitivity, its position directly beneath the flash release means it's only a matter of time before you pop the flash by mistake. The D5500 suffers from the same issue, but where its touchscreen can compensate for physical control shortcomings, the D3400 makes do with the same 3-inch, 921k-dot screen as the D3300. Aside from its lack of touch sensitivity, it nails the basics with good clarity, colour accuracy and viewing angles.
Last but by no means least is the new AF-P 18-55mm VR kit lens. It shares the same retractable mechanism as the AF-S 18-55mm VR II lens included with the D3300, but it sports a much-improved manual focus ring, which operates surprisingly smoothly for a budget kit lens. Nikon raised a few eyebrows by removing VR and focus switches from the lens barrel, but changing these settings using the camera menus is no real hardship.
Performance
An immediate and pleasant surprise when shooting with the D3400 is its autofocus performance. While the autofocus system is nothing new, its pairing with the new AF-P kit lens is a successful one: AF performance is impressively rapid, and maintains this speed in low light and even when using Live View. The lens' new stepping motor isn't completely silent – although it's certainly quiet and smooth – but focus transitions in video still lag slightly. It'd also be nice if the 11 AF points covered more of the image frame, although their positioning is adequate for the majority of subjects.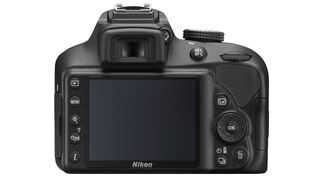 Image quality has been a strong point of Nikon's entry-level SLRs since the D3200 upped the ante with its 24MP sensor. The D3400 follows suit with convincing dynamic range backed up by accurate matrix metering. Colour reproduction is vibrant yet faithful, and in everyday shooting, detail is well-resolved.
Shooting our resolution test chart revealed a noticeable drop in outright clarity at lower sensitivities when compared to the D3300 and D5500, although things level out above ISO 1,600. In fairness to the D3400, it still resolves detail well, just not to the exceptional standard of its predecessor.
Nikon D3400 sample images
The D3400 does regain some ground with its inclusion of SnapBridge. This still requires pairing with your smart device, but the Bluetooth connection is easier to establish than Wi-Fi. Once paired, it reliably holds the connection as though the camera is tethered to your tablet or smartphone. Images automatically appear in the SnapBridge app around 12 seconds after you fire the shutter. Although they are downsized to 2MP when transferred, this is good enough for social media sharing, which is what the technology is designed for.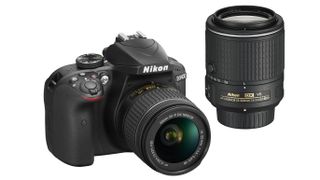 And this pretty much sums up the D3400 in general: it's good enough for its target market. Users of the D3300 or even the D3200 are unlikely to find the D3400 a tempting upgrade, but those seeking an entry point into the huge range of Nikkor optics will find the D3400 a more-than-capable performer.
Nikon D3400 specifications
Sensor: 24.2MP DX-format CMOS (Expeed 4)
Crop factor: 1.5x
Memory: SD/SDHC/SDXC
Viewfinder: Eye-level pentamirror viewfinder, 95% coverage
Video resolution: Full HD (1,920 x 1,080) at 60, 50, 30, 25 or 24p
ISO range: 100-25,600
Autofocus points: 11 (1 cross-type)
Max burst rate: 5fps (11 raw / 100 JPEG)
LCD screen: 3-inch, 921,000-dot LCD with 170-degree viewing angle
Shutter speeds: 1/4,000 to 30 sec, Bulb
Weight: 445g (body only)
Dimensions: 124 x 98 x 76mm
Power supply: EN-EL14a lithium-ion battery
Lab tests
We use Imatest and DxO Analyzer hardware and software to test cameras for their colour accuracy (colour error) signal to noise ratio (the amount of noise in the images) and dynamic range (their ability to capture detail in very bright and dark areas). We also pick three rival cameras to test them against.
Signal-to-noise ratio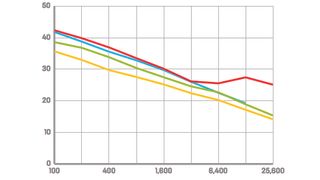 Whether it's due to in-camera image processing or differences in raw file conversion, the D3400 can't match the performance of its rivals in this test.
Dynamic range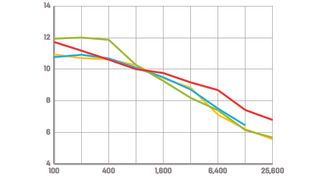 After some slightly mediocre results at lower sensitivities, the D3400 more closely matches the competition at and above ISO 800.
Verdict
Nikon has treated us with some terrific entry-level SLRs, but the D3400 is a relatively minor upgrade that almost negates its new features by cutting and downgrading others. It's a more compelling option than the Canon 1300D, but the Pentax K-S2 remains the feature-rich pick.
The competition
Canon EOS 1300D / Rebel T6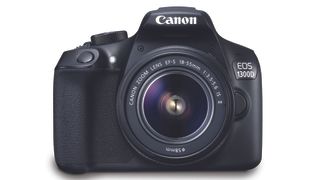 The 1300D (Rebel T6 in the US) features internal Wi-Fi and great ergonomics, but trails its rivals in other areas.
Nikon D3300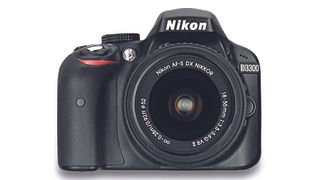 It lacks built-in wireless image sharing, but the D3300 is still an outstanding starter DSLR.
Pentax K-S2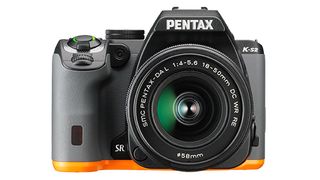 Packing features and performance that go beyond its price tag, the K-S2 gives you a great deal of camera for the money.