If you've been waiting for the Black Friday camera deals to kick in before picking up your first DSLR camera, then wait no longer: you can pick up the brilliant Nikon D3500 with two lenses for just $399.99!
Best Buy is offering a $100 saving on the APS-C camera with 18-55 and 70-300mm lenses, which will give you complete focal length coverage for virtually any kind of shooting. Perfect for anyone looking for their first DSLR camera and those taking their first serious steps into the world of photography!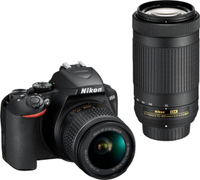 Straightforward, affordable, and just plain good, the Nikon D3500 definitely delivers. It's incredible value for money – especially at this price – with all-round image quality, responsive autofocus, and 5fps continuous shooting.
It provides beginners with a lightweight, responsive and easy to use way to get into DSLR photography.
Read more:
The best Black Friday camera deals in 2019: the best buys so far (updated)
Nikon Black Friday and Cyber Monday deals in 2019
Black Friday Best Buy deals 2019: huge savings on cameras, phones and more!