Skylum continues to roll out updates for its clever all in one photo organising and editing program, and this one brings significant workflow and performance improvements to Luminar 4.
The new photo search feature is potentially the most interesting. The Luminar library window does a great job of browsing and organising all your images, but until now it has lacked the search features we've come to expect in a photo cataloguing program.
The Search tool stops short of the full keywording options in other programs, but does let you search for images by name, folder, date, or extension, so it's definitely a step in the right direction.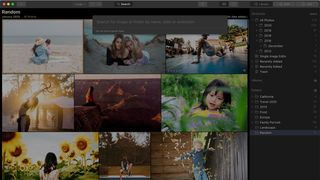 More new features in Luminar 4.3
Another big feature in Luminar is Looks, which are the equivalent of image presets but also include Luminar-specific features like textures and augmented skies. These can be quite complex and previously it could take a few moments to render an image once a Look was selected. Skylum says that Luminar 4.3, however, can now preview any Look "in an instant", just by hovering over it in the Look panel.
The AI Sky Replacement and Augmented Sky features are two of the headline acts in Luminar 4, and in Luminar 4.3, Skylum has added a new 'space shuttle' object and improved tools for flipping and positioning skies. There's a Skylum marketplace for extra skies and objects beyond those provided with the program, but you can also use your own images – and this has now been made easier with the ability to specific a custom folder within the panel for faster access to your own images.
Skylum has now relocated the Crop tool for easier access and says its performance on Windows computers has been improved. This version also adds raw support for the Canon EOS-1D X Mark III (uncompressed only), Fujifilm X100V, X-T200, and X-T4, the Leica SL2, Nikon Coolpix P950, D780 and Z50, and the Olympus OM-D E-M1 Mark III, Olympus E-PL10, Panasonic DC-S1H, and the Sony A9 Mark II.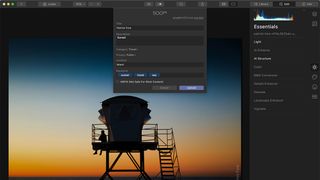 How to update Luminar 4
Luminar 4.3 is a free update to current Luminar 4 users. On a Mac, click in the Top Menu Bar and choose Luminar 4 > Check for updates. If you purchased via the Mac App Store, simply open the App Store and go to the Updates tab. On Windows, in the Top Menu Bar choose Help > Check for updates.
Read more:
• Best photo editing software
• Luminar 4 review
• Best laptops for photo editing
• Best monitors for photographers