Manfrotto has announced the Lykos 2.0, a powerful 2-in-1 LED lighting panel that offers both daylight and bicolor lighting that's ideal for mobile videography, but is also well suited to a number of photographic applications.
The Lykos 2.0 is water resistant, making it suitable for use both indoors and out. This complements its built-in lens, which optimizes efficiency based on the environment and ensures "spot-on color rendition and color cast for the most natural lighting". It promises to be a worthwhile update to the original model, which we ranked as one of the best photography lighting kits.
• Read more: Best LED light panels
As with all LEDs its most obvious application is for video work, with its compact size keeping your kit footprint small and enabling you to keep shooting nimbly without wielding huge equipment.
The Lykos 2.0 also comes into its own for photographic work, with the daylight setting being ideal for still life while the bicolor option gives extra warmth to a subject's skin for portraiture and fashion photography.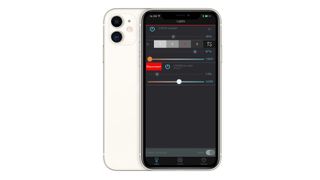 The controller on the back of the unit enables you to switch between modes and manipulate the light intensity, and the device is also Bluetooth-capable – which means you can control the light using the Lykos app, available for both iOS and Android devices.
One of the handiest features on the Lykos 2.0 is a dual-mount battery, which enables it to be charged using either the popular Canon LP-E6 or Sony L-Type.
The device is designed to be a professional-grade lighting unit, with a sleek and minimalist design that would be at home in any pro setting, while remain highly compact to make it easy to operate and transport.
The Lykos 2.0 will be available in November as a single unit for $299.99 / £259.95. It will also be available in a professional lighting kit comprising three units, three Nano Photo Stands and two softboxes, contained in a specially designed Manfrotto Pro Light Reloader Tough-55 roller bag.
Read more:
The best LED light panels in 2019
The best photography lighting kits in 2019: for studio, location and video
Lume Cube 2.0: the next-generation portable lighting LED is here