Close-up filters are a handy gadget for novice photographers and those who just want to dabble with close-up photography without straightaway spending more on a dedicated macro lens. 
Close-up options are also ideal for zoom compact cameras and bridge cameras with fixed lenses - with these attachments allowing you to improve the minimum focusing capabilities of the camera.
Close-up filter function like reading glasses, in essentially acting as a magnifier and reducing the minimum focusing distance of the lens to which they are attached. And not just standard or prime lenses, either, but zoom lenses too.
While, technically, a lens, the slim dimensions make the accessories highlighted here closely resemble a filter, while they also screw onto an existing lens in the same way.
Shoot macro photography with a close-up filter
(Image credit: Chris George)
Check out our video tutorial on how to use close-up filters to shoot macro-style pictures
Hence why they are referred to as close-up lenses and close-up or macro filters – whereas, in fact, they are one and the same. 
Here we're examining the best close-up lenses and filters – often available as sets, or individual lenses with adapters – that photographers can buy.
With a plethora of name brand and no-brand solutions available online, the obvious advantage with a close-up filter set is that it will enable you to take macro shots without having to pack a dedicated macro lens in your kit bag. 
Most sets can also be stacked, so that lenses can be used in combination to boost their creative potential further and maximize the potential for getting up close and personal, as the following images help to illustrate.
Obviously take care to ensure that the close-up filter thread size or set size you're choosing is an exact match for the lens to which you are intending to affix them. 
So that's the first thing you'll need to decide on before making your shortlist and purchase decision.
In short, if you're just dipping a toe in the world of macro, close-up lenses are a good and inexpensive place to start, with many individual lenses sensibly priced and some even costing less than a tenner. 
So let's dive in to discover the best close-up filters and lenses available for photographers right now…
Transforms any lens into a macro lens is the promise here, courtesy of a four-piece set that includes +1, +2, +4 and +10 diopter filters in a handily water-resistant nylon carry case. Polaroid suggests that the aluminum constructed set is perfect for photographing flowers, products, food and newborns. 
A dual-threaded design allows the filters to not only be attached to the relevant lens; multiple filters can also be stacked for extreme macro effects. 
Unsurprisingly, the filters are multi coated and claim to ensure true colors with zero loss in detail. 
A ten-year manufacturer's warranty provides additional peace of mind to help you make that leap, should it be needed.
Available in a variety of thread sizes, from 37mm upwards, this is a very inexpensive option for beginners, while flexible and straightforward enough for any newcomer who wants to get up close and personal to subject matter using just a standard lens and this kit.
OK, so while results may not be exactly the same as an expensive macro lens, this is a fun place to start. 
Despite the inexpensive nature of the Vivitar product, it comes with a generous 15-year warranty and a nylon wallet to store and transport the filters in. 
A good place to start your experimentations with magnification.
• Read more: Five tips for using macro lenses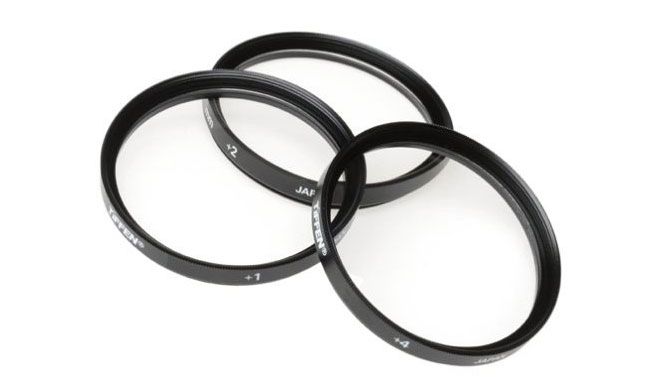 Another big name in the business of camera filters also, naturally, offers a close-up lens set, supplied in a leatherette effect carry pouch. 
The beauty here is the ability to take macro shots without having to pack a dedicated macro lens in your camera bag, or shell out big money for one in the first place. 
Available in a broad range of compatible filter sizes and +1, +2 and +4 diopter options, these Tiffen branded options are another easy to use solution for photographers wanting to get extra close. 
The lenses can also be used individually or combined for maximum close up effect and creative flexibility in all shooting scenarios. A commendably comprehensive yet affordable solution.
A known and respected brand offering a plethora of close up filter solutions, with set sizes ranging from 46mm to 77mm, containing three options, depending on how close you want to go: +1, +2 or +3. 
Hoya's 'HMC' filters are aimed at minimizing reflection to increase light transmission and temper possible lens flare and ghosting. 
The manufacturer promises over 97% light transmission for sharp contrast and well balanced color. The set arrives in a padded pouch for easy protection and transportation, with Hoya advising that since depth of field will be shallow it's best for photographers to use as small an aperture as possible.
This very sensibly priced close up option from photo accessories expert Hama is available to buy in a variety of thread sizes and magnifications – we've highlighted the +4 diopter option here, but more are available +2 an +3 diopter options. The filters are are suitable for all sorts of photography, whether on film, digital or even when shooting video. 
Once again, this option can be used in conjunction with a second lens – but as Hama close-up filters tend to be sold separately, this will be further expense. However, the single filter option is a great one for those that don't need all the different multiple magnification options.
Although more expensive than other 'starter' options here, the pitch with this one is that it can make a telephoto lens function as a macro lens, enabling the taking of close ups within a distance of 22-30cm. 
It's compatible with zoom or prime lenses with a focal length of 70-300mm, while the construction of the NiSi lens is made up of double optical corrective glass with an apochromatic design. 
This kit comes with the extras of 67mm and 72mm adapter rings and the manufacturer's recommendation is that it is used with telephoto lenses with an aperture of f/8 to f/16 to achieve optimal results and the sharpest results.
Read more:
• 10 things you need to know about camera filters – and which ones to buy
• The best macro lenses
• The best neutral density filters
• The best ND grad filters
• The best polarizing filters
• The best variable ND filters
• The best protection filters for lenses
• The 50 best camera accessories right now