UPDATE 18 October: The original report by the BBC noted that Jessops turned over £7.5 million in the year following the Peter Jones acquisition. The outlet has since modified its story with a figure of £57.9 million – the story below has been updated to reflect this.
ORIGINAL STORY: British high street retail chain Jessops looks like it's about to go into administration for the second time in six years.
The specialist camera store was rescued from an £81 million collapse in 2013 by Dragons' Den star, Peter Jones. Now Jones plans to call in the administrators again to rescue the ailing retailer.
According to Sky News, JR Prop Limited – the arm which manages the firm's leasehold property estate – has filed a notice of intention to appoint restructuring advisory firm Resolve.
A report by the BBC notes that Jessops saw its rent costs increase to £4.7 million last year – an increase in lease charges from £4.4 million in 2017. Such is the challenge of being a high street retailer in the internet age.
Jones is said to be seeking a rescue deal with landlords and lenders known as a CVA (company voluntary agreement) – an insolvency arrangement to address debts with the company's various creditors.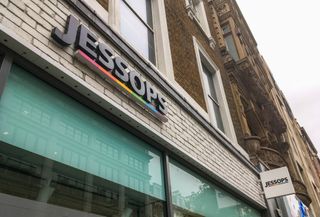 At present it is unclear to what extent this will the affect the firm's 500 staff and its brick-and-mortar stores nationwide, but Sky reports that it "raises the prospect of a significant number of Jessops' 46 shops being shut during the coming months".
According to the site's sources, "placing JR Prop into insolvency proceedings would provide the most effective means of streamlining Jessops' operations to ensure their survival."
It's a tragic case of déja vu for the retailer, which saw all 187 of its stores shuttered in January 2013 under an £81 million mountain of debt, before being bought by Jones two months later.
At the time Jones – one of the most (in)famous British businessmen, thanks to his role on Dragons' Den – predicted that the resurrected company would see sales of £80 million in its first year; according to the BBC, it actually turned over just £7.5 million £57.9 million for the period.
Jones also (in)famously rubbished the notion of camera phones impacting the traditional camera market, stating that, "The amateur photographer, you wouldn't see them walking down the street taking that perfect picture with a mobile phone."
Read more:
Nikon Black Friday and Cyber Monday deals in 2019
The best APS-C compact cameras
The best mirrorless camera in 2019: we pick the best compact system cameras