Venus Optics has brought its latest unique lens, the Laowa 4mm f/2.8 Fisheye – a hyper wide-angle fisheye lens with a 210° field of view – to multiple mounts for crop sensor cameras.
Originally released for Micro Four Thirds cameras, the Laowa 4mm f/2.8 Fisheye is now available for Canon EF-M, Fujifilm X and Sony E mount systems. One of our favorite optics, it's one of the best fisheye lenses on the market.
• Read more: Laowa 4mm f/2.8 Fisheye review
The optic has a 35mm equivalent focal length of 8mm on Olympus / Panasonic, 6.4mm on Canon and 6mm on Fujifilm and Sony. Boasting a close focusing distance of just 80mm, it's also ultra-compact and light, measuring just 45.2 x 82mm and weighing a mere 135g.
Unlike the company's Zero-D series of wide-angle lenses, the Laowa 4mm f/2.8 Circular Fisheye is specifically designed to capture images with a highly distorted, dramatic perspective.
In addition to the 'conventional' circular images that fisheye lenses are known for, the 210° field of view enables photographers to record a full 360° panorama with as few as 2 images (where standard fisheye lenses often require 6 or more).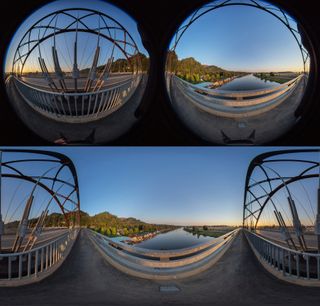 The extreme perspective also means that the Laowa 4mm lends itself perfectly to VR photography applications, such as shooting spherical panoramas and creating virtual tour environments.
Further, the fast f/2.8 aperture makes the optic a capable performer in low light situations, making it adept for astrophotography.
Laowa claims that the lens possesses "outstanding sharpness" throughout the entire frame, since it features seven elements in six groups. This means that de-fishing your shots into rectilinear images in post-production should yield surprisingly sharp standard images.
And of course, between its inherent properties and the 2x crop factor of Micro Four Thirds, the depth of field on the optic is so ridiculously deep that virtually no focusing is necessary; set to infinity at around f/5.6, everything will be in focus.
The Laowa 4mm f/2.8 Fisheye is priced at $199 / £249 (AU$289). It is available now at Adorama for $199 and ships worldwide.
Read more:
The best fisheye lenses in 2020
The best cheap lenses: affordable lenses for DSLRs and mirrorless cameras
The best Micro Four Thirds lenses for your Olympus or Panasonic camera