If you want to master exposure, especially if you use flash or you shoot video, then you need a light meter – and the pocket-sized Sekonic L-308X-U Flashmate is reduced to just $179, but only until midnight EST!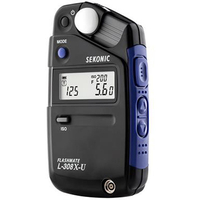 Sekonic L-308X-U Flashmate: $219 $179
Save $40 The portable and versatile L-308X-U handheld light meter combines both stills and video metering functions in a single unit with a sliding lumisphere, capable of reading incident and reflected light. Powered by a single AA battery, it's perfect for every bag! (Coupon applied at checkout)
US deal ends 00:00 EST 28 Nov
Combining stills and video metering, the Sekonic L-308X-U Flashmate is a must-have for both photographers and videographers. In Photo mode, it meters from 0 to 19.9EV at ISO100, with exposures from 1/8000 through to 60 seconds, with a flash range of f/1.0 to f/90.9 at ISO100 (also accommodating shutter and aperture priority shooting). The dedicated Cine mode enables you to meter for frame rates between 8 and 128fps with 1/10 of a stop accuracy (featuring an ISO850 option, to match the native ISO of some video cameras), while the HD Cine mode is devoted to shooting video with DSLRs or mirrorless cameras.
More Sekonic L-308X Flashmate deals:
Read more: