HP has just announced a new generation of Z-series monitors that promise top-notch color accuracy as well as attractive styling and sustainable manufacturing. The announcement comes shortly after Dell revealed its new color-critical UltraSharp 32 HDR PremierColor UP3221Q - a high-end, and high-price, display aimed at enthusiast and pro content creators.
Headlining the new HP monitor range are two flagship DreamColor displays: the HP Z25xs G3 and Z27xs G3. The existing DreamColor Z31x is already one of our favorite monitors for video editing, but these two new panels are claimed to be "the world's first color critical HDR monitors with one-touch brightness adjust". This allows you to view your content at maximum display brightness with a touch of a button, and then immediately revert back to your normal screen brightness.
The 27-inch Z27xs G3 has a 4K (3840 x 2160) native resolution, while the smaller 25-inch Z25xs G3 makes do with a more modest 2560 x 1440 QHD resolution. Both displays have a PANTONE Validated color gamut, along with factory color calibration and up to HDR 600 Vesa certification for displaying HDR content.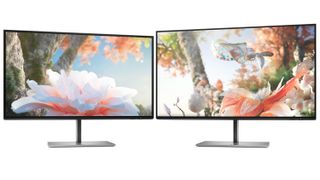 A further six Z Core monitors complete the newly announced line-up. These consist of three 24-inch panels (one 16:9 Full HD 1920x1080 monitor, and two WUXGA 1920x1200 16:10 models) as well as three 27-inch displays (two 2560 x 1440 QHD displays, and a 4K display). All are claimed to deliver flawless color accuracy straight out of the box and have been designed with screen bezels 82% thinner than those on HP's previous Z displays.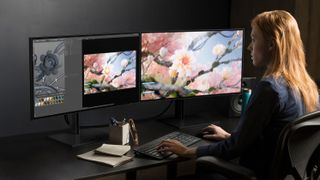 Single-cable USB-C connectivity is also present on many monitors in the new range, allowing you to use just one wire to transmit both power and the video signal. USB-C also facilitates seamless compatibility with both Windows and Mac computers, as well as enabling 100W USB-C power delivery.
To ensure a more comfortable viewing experience over extended periods, the new Z Core displays have an additional claim to fame as being the world's first performance monitor series with always-on low-blue-light, to reduce eye strain while still preserving color accuracy.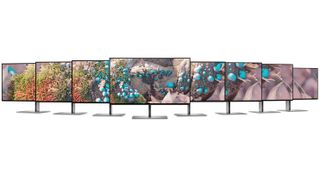 Further information detailing specs like exact color gamut coverage has yet to be revealed, and the new monitors won't go on sale until 2021. Specific pricing and availability:
HP Z25xs G3 QHD USB-C DreamColor Display is expected to be available in March 2021 for a starting price of $599
HP Z27xs G3 4K USB-C DreamColor Display is expected to be available in March 2021 for a starting price of $749
HP Z24f G3 FHD Display is expected to be available in January 2021 for a starting price of $239
HP Z24n G3 WUXGA Display is expected to be available in January 2021 for a starting price of $299
HP Z24u G3 WUXGA Display is expected to be available in May 2021 for a starting price of $349
HP Z27q G3 QHD Display is expected to be available in January 2021 for a starting price of $399
HP Z27u G3 QHD Display USB-C is expected to be available in March 2021 for a starting price of $449
HP Z27k G3 4K USB-C Display is expected to be available in March 2021 for a starting price of $599
Read more:
The best monitors for video editing
The best photo editing monitors