Smarty has cut the cost of its unlimited data deal - making this what is probably the best SIM only deals at the moment. The cost is just £16 per month - which is £4 per month reduction on the usual fee; but you need to get your skates on, as we've been told the price goes up next week. And the big attraction, compared to similar SIM only deals, is that there is no commitment – as you have a one month rolling contract you can cancel at any time
If you keep running out of data every month, and want an affordable option where you never have to worry about download sizes or about switching on data-hungry app then this could be for you. It is a great deal for those who stream video and download loads of files on their daily commute. And there are options for those who want even more data too.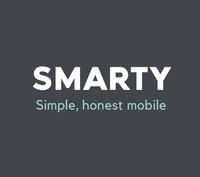 Smarty Unlimited SIM-only deal |
Unlimited 4G data | Unlimited calls | Unlimited texts |
Deal price: £16 a month
This unlimited 4G SIM-only plan gives you unlimited data, unlimited voice calls, and unlimited SMS texts - and all you pay is £18 a month for life. This is the plan for power users, who want to stream video all day long without worrying about the cost.
UK deal - ends 13 July 2021
This amazing SIM Only deal comes courtesy of Smarty – a virtual UK 4G network operated and run by Three, but which gives you a better price and less restrictions that you get from Three itself.
If you are looking to spend less, then consider the £10 a month SIM-only deal includes 30GB of 4G mobile data, unlimited calls and unlimited text messages. It means that you won't have to turn off navigation services when in a strange city, or struggle with those annoying wifi access forms in pubs and restaurants. What's more tethering and personal hotspot data usage is included in your data coverage.
• The best SIM only deals right now
There are no long-term contracts to worry about... this is a rolling one-month deal. So when you decide to go off-grid, or find an even better deal, you can simply cast your Smarty Sim aside without worrying about financial penalties.
Like the Three network, Smarty doesn't ever restrict your mobile data, either – no matter how much you're using to stream Netflix box sets during your train journey, or however many pictures you share with your fans on Instagram. And you can use your allowance for tethering too.
• The best camera phone in 2021
• Best budget camera phone
• The best burner phones in 2021
• Best selfie sticks for your smartphone
• The best iPhone tripods
• The best gimbals for your iPhone, GoPro and camera
• The best phone cases to protect your camera phone
• The best 5G phone for photographers