The Canon EOS M200 is the cheapest EOS M mirrorless model in the current camera range, but it's also very compact and straightforward to use, so it's ideal for photographers who want to upgrade from a smartphone but don't want to have to learn straight away all the jargon and techniques of photography.
• Canon EOS M200 review (opens in new tab)
The EOS M200 comes with a flip-up touchscreen display that can face forward for selfies, and Canon's EF-M 15-45mm f/3.5-5.6 IS STM kit lens, which has a retracting mechanism for extra compactness when you want to put the camera away in your bag.
It's not the world's most advanced mirrorless camera, but if you're just starting out or you don't want to be bamboozled by tech, then that's probably a good thing!
• Remember, Amazon prices can change, so while these deals are correct at the time of writing, prices and availability may alter. Find out how to join Amazon Prime (opens in new tab), see the main Digital Camera World Amazon Prime Day deals (opens in new tab) article for more deals, and visit T3 (opens in new tab) or TechRadar (opens in new tab) for Prime Day deals across a whole range of tech products, not just cameras.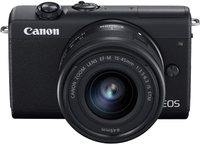 (opens in new tab)
Read more:
• Best Canon cameras (opens in new tab)
• Best beginner cameras (opens in new tab)
• Best cameras to buy (opens in new tab)