Fujifilm says the firmware updates will transform the three GFX models into completely new cameras, which seems a bit strong, but the updates are certainly substantial – especially for the GFX 100, Fujifilm's 100-megapixel medium format flagship.
The firmware updates will be free, in classic Fujifilm tradition, and will bring new features, not just bug fixes. The company has offered similar camera upgrades in the past for some of its APS-C X-mount models.
New Film Simulation modes
The firmware updates will add Fujifilm's Classic Neg color negative film simulation mode to all three cameras to give a 'snapshot' look. The GFX 50S and GFX 50R will get Fujifilm's ETERNA mode to simulate the look of Fujifilm's motion picture film, while the GFX 100 will get a new ETERNA Bleach Bypass option.
The GFX 100 gains a Color Chrome Blue mode to intensify blue skies, and its Smooth Skin Effect option will now be made available on the GFX 50S and GFX 50R.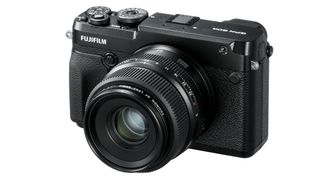 Improved autofocus
The GFX 100 has a more advanced phase detection AF system than the other two cameras, and the firmware update will improve its sensitivity down to -5EF. The contrast AF system in the GFX 50S and GFX 50R, meanwhile will also get improved low-light performance, this time by increasing the amount of time the AF system is given to work.
All three models will get improved Face/Eye AF accuracy and stability when shooting groups of people, and the focus bracketing mode will be enhanced so that you can specify the start and end points and shooting interval and the camera will automatically work out the number of frames/steps needed.
Tethered shooting and drone use
It will now be possible to adjust shutter speed, aperture, ISO and EV compensation remotely from a computer when using tethered shooting and suitable software, and there will be increased software support for ratings applied in-camera.
If you do send your $10,000 GFX 100 up in a drone or (less nerve-wracking) use it on a gimbal, it will now be possible to change exposure and manual focus settings on compatible hardware from the following makers.
Guilin FeiYu Electronic Technology Co. Ltd.
Shenzhen Gudsen Technology Co., Ltd.
SZ DJI Technology Co.,Ltd.
ZHIYUN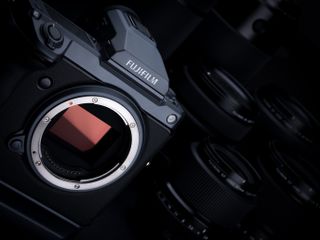 ProRes RAW output for the GFX 100
Perhaps the biggest news (for videographers) is that the GFX 100 will now be able to output 4K 30p 12-bit ProRes RAW video via HDMI to an Atomos Ninja V – Atomos will be updating its own firmware in July to accommodate this.
• Atomos Ninja V firmaware update
The ProRes RAW format is gaining ground quickly as a way for videographers to achieve the same grading flexibility as stills photographers shooting raw files. Atomos already supports ProRes RAW output from the Nikon Z 6 and Z 7, the Panasonic Lumix S1H and the Sigma fp, and Adobe has introduced ProRes RAW support to its high-end Premiere Pro video editing software, despite having its own competing CinemaDNG format.
Fujifilm GFX firmware update availability
You can download the Fujifilm GFX firmware updates from the Fujifilm website. The firmware versions for each camera are as follows:
FUJIFILM GFX 50S: Ver. 4.00
FUJIFILM GFX 50R: Ver. 2.00
FUJIFILM GFX 100: Ver. 2.00
Read more:
• The best medium format cameras
• Fujifilm GFX 100 review
• Fujifilm GFX 50R review
• Fujifilm GFX 50S review
• ProRes RAW and what it means