Sony has revealed much-anticipated firmware updates for its three flagship Alpha cameras – the Sony A9 III, the Sony A7S III and Sony A1 – which "will be available from March 2024 or later".
The updates will add different features for each camera, as well as new functionality common to all three.
The Sony A1 and Sony A9 III both receive Relay Playback, a feature that streamlines the way you play files back when you have a memory card in each slot. As of now, when you're playing back from one card, you need to go into the menu to shift to the other card. Following the update, there will be seamless playback from the cards in slot one and slot two.
Being added to the video capture of the Sony A1 and Sony A7S III is breathing compensation, which helps the cameras correct the change in focal length that takes place when the focus is adjusted on a lens.
Exclusive to the Sony A9 III is support for 1/80,000 sec continuous shooting (as outlined in our Sony A9 III review, the camera is currently limited to 1/16,000 sec for burst shooting).
And specific to the A7S III is DCI 4K 24.00p support, providing true 24p for filmmakers and cinematographers (something that isn't offered for most cameras outside Sony's cinema range).
In addition, three features are common to all three cameras. IPTC workflow enhancement increases the number of IPTC metadata presets from one per memory card to twenty, all switchable, to improve workflow across media agencies and outlets.
FTP workflow enhancement enables photographers, while sending a queue of files via LAN or WiFi, to use the Protect & Transfer option to tag an image and make it jump the queue – sending it as a priority, should a critical moment occur (such as a goal or knockout) that needs to be urgently sent to the publication or media center.
Finally, C2PA format support introduces content authenticity protocols in line with the Content Provenance and Authenticity standard – the group founded by tech giants including Adobe, BBC, Intel, Microsoft and Twitter to combat fake news and manipulated media. The three Alphas join the Leica M11-P in bringing Content Credentials to the point of capture.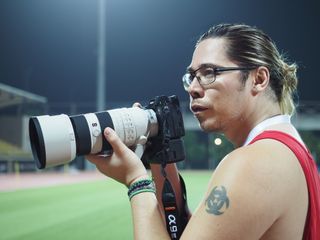 "That's a big thing because it's years that our users are asking for this update," said Sony executive Yann Salmon Legagneur, alluding to the longstanding calls for firmware – particularly from A1 users.
He also teased that more features may ultimately be included in the updates when they materialize next year.
"As of now these are the features that are announced, but our colleagues from Japan said [there will be] more – but they didn't say what more is. So I think we need to see how it comes."
For ease of reference, here are the upgrades you can expect for each camera at a glance:
Sony A9 III
Relay playback
1/80,000 sec continuous shooting
IPTC workflow enhancement
FTP workflow enhancement
C2PA format support
Sony A1
Breathing compensation
Relay playback
IPTC workflow enhancement
FTP workflow enhancement
C2PA format support
Sony A7S III
Breathing compensation
DCI 4K 24.00p
IPTC workflow enhancement
FTP workflow enhancement
C2PA format support
These are three of the best Sony cameras, as well as the best professional cameras. If you want to bag a bargain, take a look at the best Sony Black Friday deals and the best Black Friday camera deals from all brands.