All of Leica's cameras are iconic in their own right, but it is Leica's M series of cameras that perhaps has the most fervent following. Since last year's reveal of the latest generation of the M-series with the Leica M11, we have been waiting for Leica to unveil its usual collection of variations on that core camera. So far we have seen the black-and-white-sensor M11 Monochrom, and now it is the turn for this generation's Leica M11-P variant.
Leica M11-P: Specifications
Sensor: 60.3MP full frame CMOS
Image processor: Maestro III
AF points: N/A
ISO range: 64 to 50,000
Max image size: 9,528 x 6,328
Metering modes: Spot, Center-Weighted, Multi-Field
Video: N/A
Viewfinder: Direct vision rangefinder type, 0.73x magnification, parallax compensation
Memory cards: SD/SDHC/SDXC, UHS-II
LCD: 2.95-inch fixed touchscreen, 2.33m dots
Max burst: 4.5fps
Connectivity: Wi-Fi, Bluetooth
Size:
Weight:
The Leica M10-P was unique for its focus on a redeveloped silent shutter for quieter street photography or photojournalism, where discretion is absolutely paramount. The M11-P is also a camera that is aimed at these audiences, but a quieter shutter is not the focus of the M11-P though, instead, the camera has a new trick to combat the rise in photos being misappropriated by AI.
The Leica M11-P's new content credentials are the start of a real fightback by imaging companies and photographers to protect works from being inappropriately misused by AI image generators while providing appropriate accreditation for photographers. Leica's implementation of content credentials is hardware-based, with a dedicated chip in the camera that encodes the file with the photographer's details. These credentials can then in theory travel across the internet with the image, so credit remains with the photographer, even if the image is manipulated using editing or AI. Unfortunately for anyone with previous Leica cameras, due to the hardware aspect, this won't be coming in a future update to your camera.
Apart from the new focus on content credentials, internally the Leica M11-P is the same M11 that our reviewer Rod enjoyed using so much the first time around. Like other cameras in the M-series, the M11-P is also a manual focus only rangefinder-style camera, with no video. But then this is its charm, with photography experience being first and foremost. The triple-resolution 60.3MP color sensor used in the M11 features again here, capable of shooting in 60MP, 36MP, or 18MP, gaining a stop of dynamic range with reduced resolutions.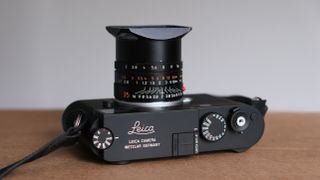 Leica M11-P: Design & Handling
The M11-P is available in black aluminum or brass chrome versions, the chrome version comes in heavier than the aluminum, however, both benefit from the same infamous Leica build quality. The iconic red dot that usually adorns the front of Leica cameras is gone for a more discrete-looking camera. I like my cameras not to stand out, especially when I am out on the street shooting, and the M11-P fits the bill perfectly.
The camera is nice and compact, although, with no grip as standard on the camera, the camera is not the most comfortable to hold for long periods. I found the bottom corner of the camera digging into my palms or fingers a lot. Thankfully, the Leica M lenses also manage to be remarkably compact while still providing excellent image quality. Leica's lenses have their own unique characteristics which have won them such a following, the way the lenses render images, especially foregrounds and backgrounds is lovely.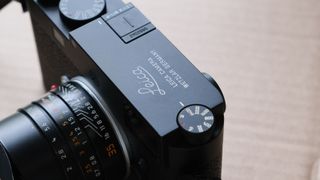 Thankfully Leica dropped the baseplate for the M11-series and uses a new spring-loaded battery compartment that has a little trigger for popping the battery, a small push on the battery then unlocks it. The battery is a big increase in capacity from the previous gen, and can now be charged by USB-C, although the port is on the bottom of the camera, which means you have to slightly awkwardly balance the camera on its side.
Speaking of awkwardness, the SD card slot on the camera is also under the battery, so you need to pop the battery out each time you want to access your photos or change the card. However, with a built-in 256GB hard drive, you might find you are connecting the camera via USB-C more, especially as Leica is increasingly trying to encourage you to use the Leica Fotos app which is a great experience, but call me stubborn, I still like to just whip out the SD card and copy the photos manually.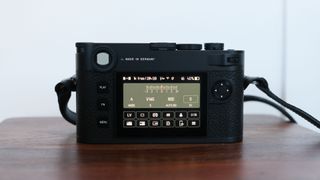 The optical viewfinder on the M11-P is lovely to use, EVF's still have a long way to go to recreate the same feeling as an OVF. Focusing through the viewfinder is easy enough once you've had a bit of practice, and really does make you think carefully about your framing and subject matter, although all Leica M lenses come with a distance scale, so you can also guestimate the distance if you're brave/skilled enough. Using the viewfinder you can get incredibly accurate focus with a bit of practice and patience, although this is not the camera for fast-moving subjects.
Focusing through the LCD screen on the rear is also possible, although, with no tilt to the screen, this wasn't the easiest. The camera can use focus peaking to help you focus, but I often struggled to see the red peaks when the screen was off at an angle, or the scene was especially bright or colorful.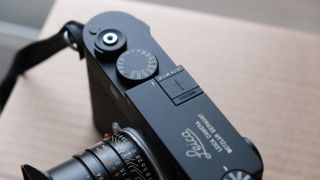 Leica M11-P: Photo Performance
Photo performance is distinctly Leica, images were rich, punchy, and sharp (when manually focused correctly), with a great dynamic range. The real-world testing, the ISO performance is also excellent, in the gloomy London underground the noise was kept well under control, but like all modern cameras the ISO tops out at unusable numbers.
The Leica M11-P has a tendency to expose images on the darker side, giving scenes more of a grittier look, a look which is beloved by many a Leica fan, but I personally wish the images were a bit brighter. There are some alternate photo styles in the settings, including a Monochrome look, but the Natural style I found suited me a little more.
The M11-P combined with the Summilux-M 35mm F/1.4 ASPH lens did produce some quite intense vignetting especially wide open, and while this could be quite easily cleaned up in Lightroom with just a few clicks, especially on the raw images, this might show the limitation of some Leica lenses with this camera.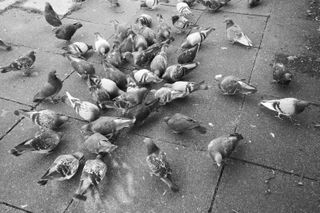 One recurring issue I had with the processing was sometimes the M11-P would make skies a powerful deep blue, which just did not reflect reality. This was mostly only in bright scenes and I suspect that this was a way to keep highlights from clipping, which is appreciated as underexposure is easier to fix than overexposure. But this did mean that a few photos were not ready to go straight out of the camera.
As touched upon earlier, the Leica M lenses provide a stunning Leica look to photos with beautiful rendering of the foregrounds and backgrounds, while the subject remains very sharp (if you manage to nail the manual focus). It is hard to describe this look in words, but hopefully, the accompanying photos will demonstrate this look.
Also at 60MP, there is so much cropping potential for images, which is especially useful if you have a wider lens. The image below was shot at 35mm, but the crop at 100% still provides a super sharp image that is plenty usable across the internet or social media. Although with 50-100MB DNG files, the lower resolution modes might be better if you don't plan to buy a lot of storage.
Now, Content Credentials, are the big new feature of this camera. It is incredible to see companies trying to help protect photographers' work in this way, the content credentials are so simplistic to use, you enter your details on the camera, and that's it. Each photo you take will have the details coded in.
Credentials can be tracked across image editing software, as well as uploads on downloads from platforms that support the feature. Adobe and X (Twitter) are two of the biggest partners, with Adobe Photoshop already having Content Credentials in beta in its latest versions. You can also upload images to the Content Authenticity Initiative website to check the credentials of an image.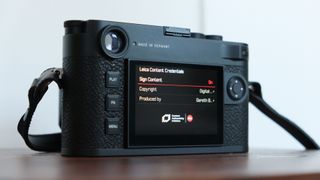 However, for protecting work from unwanted manipulation, right now the system seems just too easy to get around, and unfortunately, there are a lot of people out there who will not be deterred by a few extra barriers.
I could use photo editing software or even screenshots to lift the image or parts of the image, remove the hard-coded content credentials, and then feed those images into my AI creations. If I registered my photos, then whether these lifted parts may still be matched to the original owner remains to be seen.
Content credentials will certainly be a significant barrier to using AI in public works, like the uncredited AI entries (and winners) in recent photo awards, or in professional media organizations where there is more scrutiny.
In a wider setting, while the credentials system is very new, it remains to be seen how robust it is and how well it will be supported, but with the number of shady images that go unchecked on Facebook or WhatsApp groups right now, I am not sure exactly how will help in the fight against disinformation if sophisticated AI creators actively abuse the system and the public are willfully ignorant to check the authenticity of what they are viewing. This is an important step from Leica, but the real onus lies with social and traditional media companies to implement in a meaningful way.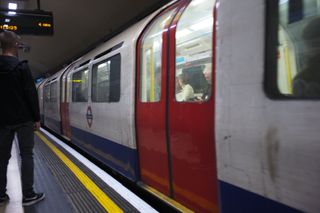 Leica M11-P: Sample Images
All these sample images in this review were taken in London across the cold but sunny week I spent with the camera. Leica also provided the excellent Leica Summilux-M 35mm F/1.4 ASPH lens, which is a great length for street scenes or wider-angle shots.
Leica M11-P: Final Verdict
The Leica M11-P continues Leica's blend of classic style and cutting-edge technology. In terms of aesthetics, it takes inspiration from the sleek, minimalist design of the M11 Monochrom, without the usual iconic red dot offering a more understated look that appeals to discerning photographers who want to go unclocked on the street.
However, it isn't just about appearances. Inside, the M11-P mirrors the Leica M11, guaranteeing the same exceptional image quality that we loved in the original M11 model, with Leica's 60MP color sensor, with its triple-resolution tech offering big detailed photos. The M11-P produced impressive images that popped, with deep and rich colors, although suffered slightly from underexposure. Leica's lenses continue to stand out, with their almost ethereal-looking out-of-focus areas, upholding the iconic Leica look.
What really makes the M11-P notable is the introduction of its content authentication component, which could yet prove to be a very valuable weapon in the ongoing battle against AI-generated image manipulation. However, its effectiveness in countering this currently appears somewhat vulnerable to those with ill intentions, although it is very early doors for the technology, so it will be interesting to see how it evolves as it is more widely adopted.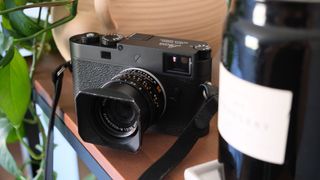 ✅ Buy this if...
You want a unique manual focus photography experience
You want one of the most stylish cameras around
You like the slower pace of street photography or photojournalism
🚫 Don't buy this if...
You take a lot of photos of fast-moving subjects
You are on a restricted budget (don't forget about buying lenses!)
You want to shoot video
You might also like...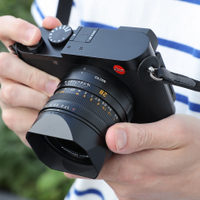 If you are on a much tighter budget but you want something in the Leica family, then the Leica Q3 might be for you. The Q3 offers the same 60MP sensor, but comes with a fixed lens, although a very good one at that! The camera also has a few tricks by offering a neat digital zoom feature that makes the camera feel like it has a real zoom. And of course, it is oozing with Leica style and build quality.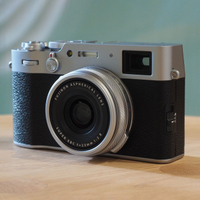 If you can actually find one in stock, then a worthy competitor is the Fujifilm X100V. The sensor is a much smaller 24MP APS-C size, but this doesn't stop it from taking incredible photos with Fujifilm's now legendary film simulations. The camera is also one of the prettiest digital cameras around, with its classic vintage styling, and brilliant build, it gives Leica a run for its money.
Read more: for more from Leica, check out our list of the best Leica cameras. If you are looking for other cameras perfect for the streets then check out our top picks for the best cameras for street photography.