At long last, Sigma has joined Nikon's mirrorless revolution! Sigma has announced its very first Z-mount lenses in the form of three super-fast prime lenses: the 16mm, 30mm and 56mm f/1.4 Contemporary.
While these are DX lenses designed for Nikon's growing roster of APS-C Z-series cameras – the Nikon Z50, Nikon Z fc and Nikon Z30 – they should be compatible with FX Z-series cameras too, which will automatically crop to accommodate them.
• Read more: Best Nikon lenses
Fans of the Big N and Sigma optics have had to wait over four years for anything Z-mount related to appear from the Kawasaki-based lens giant. And with this announcement, we hope that this is the start of a full-fledged Z-mount-compatible line-up.
While we're awaiting detailed specifications, the trio of lenses are already available for Canon EF-M, Sony E, Fujifilm X and L mounts – and the Canon variants performed very well on test – so we have a pretty good idea of what to expect.
Each lens features a super-quick maximum aperture of f/1.4 and sits within Sigma's Contemporary range, which the Japan-based manufacturer cites as, "featuring the very latest technology, and combining optical performance with compactness".
The trio of primes boasts nine-bladed apertures, and according to Sigma, "control algorithm including AF drive and communication speed optimization has been developed specifically for Z Mount interchangeable lenses." Where supported, you can expect in-camera aberration correction, while rubber-sealed mounts provide some protection from the elements.
The Sigma 16mm f/1.4 DC DN | C received a perfect score when we reviewed it for Canon's EF-M mount, so we're expecting big things from this comparatively small wide-angle prime in its Nikon Z-mount form.
This lens provides an equivalent 24mm focal length (with an 83.2° angle of view), ideal for landscapes, architecture and stylized street shots. It comprises 16 elements in 13 groups and features a stepping motor for silky smooth AF. It's a useful tool for wide-angle close-ups, too, with a very respectable minimum focus distance of 9.8in (25cm). The Nikon variant is set to weigh slightly more than existing versions at 14.8oz (420g), likely to accommodate the super-wide Z mount.
This compact standard prime's Canon EOS M variant earned an impressive 4.5 stars in our review, where we praised its good image quality, small and lightweight build and reasonable pricing.
The 30mm f/1.4 DC DN | C will provide an equivalent focal length of 45mm on Nikon's Z-series cameras (with a 50.7° angle of view), making it a very usable standard prime that's essentially a nifty fifty. It's constructed from 9 elements in 7 groups and features a decent minimum focus distance of 11.8in (30cm). Expect a super-light optic that will make an ideal street or photowalk companion, once again weighing slightly more than other variants at 10.1oz (285g).
Sigma has called previous incarnations of this minute 56mm prime the "smallest mid-tele lens in its class". And with all current variants weighing in at 10.1oz (285g) or below, it's not hard to believe. That said, the Nikon lens will weigh in slightly heavier at 10.4oz (295g).
This neat little prime provides an equivalent focal length of 84mm (with a 28.5° angle of view), making it a fantastic choice for portrait photographers looking for that coveted 85mm look, and aided by the super-fast f/1.4 aperture. The lens is built from 10 elements in 6 groups and has a decent close-focusing distance of 19.7in (50cm).
Just like its wide-angle 16mm f/1.4 DC DN | Contemporary counterpart, the Canon variant of this lens earned a perfect score on test, where we praised its premium build quality and impressive image quality across the board.
Read more
Best Nikon Z lenses
Best lenses for the Nikon Z50
Best 50mm lens
Best lens for street photography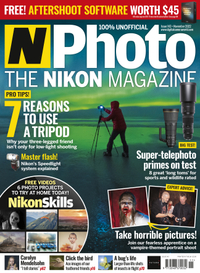 N-Photo: The Nikon Magazine is a monthly magazine that's written by Nikon enthusiasts for Nikon enthusiasts, you can be sure that all the content is 100% relevant to you! So for the best Nikon-focused news, reviews, projects and a whole lot more, subscribe to N-Photo today – with our unmissable sub deal!