If you're looking for a way to make your driving experience as safe as possible, then you might want to check out this great dash cam deal. B&H are now selling the myGEKOgear E100 108-p dash cam for the incredible price of just $24.99, down from $69.99. That's an amazing saving of 64%!
This dash cam deal means you can pick up the myGEKOgear dash cam for $45 less than usual. This dash cam has a CMOS image sensor that produces 1080p video at 30 fps. It has a 1.5" LCD color display and a wide angle lens that has a 120º field-of-view.
• Read more: Best dash cam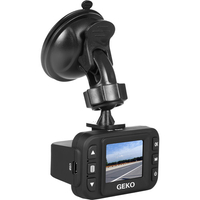 The compact size means that you don't have to worry about the dash cam taking up too much space on your dashboard. Meanwhile, the hands-free automatic recording is on a continuous loop for maximum ease. The EV value system enables you to record in both bright and low-light situations, while the motion sensor starts the dash cam recording as soon as motion is detected.
This dash cam deal will only be around for another 12 hours (from the time this article is published), so don't delay!
Read more
Best front and rear dash cams: dual dashboard cameras in 2020
Best wifi camera: for home security and surveillance
The 10 best action cameras
The best helmet cameras
The best baby camera monitors