Whether you're a sports photographer, or you just want to enjoy your travel photography without worrying about damaging your kit, a hardy camera backpack is essential. Luckily, the Evoc CP Photo backpack series has three robust options to help you get your shot while your kit remains perfectly protected.
The Evoc CP Photo backpack series uses the Evoc Neutralite System, a carrier system for backpacks with a high load capacity that ensures the load is unaffected by movement. It also helps to channel weight through the broad hip belt towards the body's centre of gravity.
• Read more: Best camera bag for travel
There are also strategically placed back pads to help ensure carrying comfort and ideal air circulation for the back.
The Evoc CP Photo backpack range is divided into three products - the CP 18L, CP 26L and CP 35L.
The CP 18L is perfect for those who light to travel light. Divided 60:40 onto a padded, individually sub-dividable camera compartment and a compartment for personal effects, the CP 18L would be great for those wanting to go on day photo hikes. The camera compartment can be opened from the back of the backpack and the camera itself can be accessed quickly from the side. There's also space for a 2-litre hydration bladder and a zipped pocket on the hip belt can be used to store a lens cap or phone.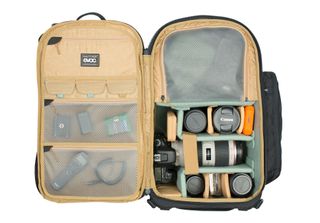 Meanwhile, the CP 26L has a similar 60:40 design, but there's also additional space for avalanche equipment for sports photographers, along with an emergency plan and a padded compartment for a laptop. There's also a special glasses compartment, a compartment for hiking maps and a sophisticated belt system that allows ice axes, skis, a snowboard or tripod to be attached to the backpack.
And finally, the CP 35L is designed for the professional sports photographer. The backpack interior is divided 80:20 into a compartment for a camera or drone, and a separate, water-repellant compartment for personal gear. On the inside of the front cover there are three partially waterproofed zipped pockets for batteries and accessories. Meanwhile, the compartment for camera / drone and lenses can be individually sub-divided with provided compartment dividers. With a reinforced base with rubber feet and a solid carrying handle, the CP 35L is designed to be robust enough for even the most strenuous of adventures.
Specifications
Evoc CP 18L
• Volume: 18L
• Dimensions: 52 x 29 x 17 cm
• Weight: 1730g
• Colors: Gold or black
• Camera compartment: 26 x 26.5 x 16.5 cm

Evoc CP 26L
• Volume: 26L
• Dimensions: 52 x 30 x 17 cm
• Weight: 2400g
• Colors: Gold or black
• Camera compartment: 28 x 29 x 17 cm
Evoc CP 35L
• Volume: 35L
• Dimensions: 55 x 34 x 19 cm
• Weight: 2700g
• Color: Black
• Camera compartment: 41 x 33,5 x 17,5 cm
Read more
Best messenger bags for photographers
Best camera bags and cases for photographers in 2019
Best luxury leather and canvas camera bags for your photo kit