With the world working from home more than ever before, Canon has released its new Pixma G-Series MegaTank inkjet range, which aim to maximize productivity with high volume and low-cost printing.
Suitable for everyday home or office use, especially during prolonged periods of home working, these entry-level printers join Canon's MegaTank range, and they will be available to buy from February 2021!
• Read more: • Best ink refill printer • Best 3D printers
Key product features across Canon's latest range include replaceable maintenance cartridge to reduce downtime, improved ink bottles to make refilling tanks easier, and a 2-line LCD for quick access to settings. Balancing cost and efficiency, the economy print mode makes it possible to confidently print thousands of pages when needed, whilst further reducing costs.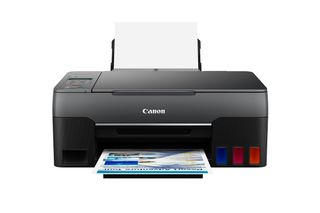 Designed for the home office, students and home schooling, or home-craft family duties, the expanded range have various technical capabilities that include the Pixma G3560 - a high speed, three-in-one multifunction printer (MFP) capable of printing, copying and scanning with Wi-Fi, the Pixma G3520 – a MFP with Wi-Fi, the Pixma G2560 – a high speed MFP, the Pixma G2520 MFP and the single function Pixma G1520 printer.
• Read more: Best photo printer
Canon says this series can produce 6,000 pages from a single black ink bottle and print 26 per cent more in economy mode. For printing in colour, the Pixma G-Series MegaTank devices offer a claimed page yield of up to 7,700 pages from a set of color ink bottles, a 700-page increase on previous models.
The two high-speed models in the range, PIXMA G3560 and PIXMA G2560, can deliver deadline beating speeds of 10.8 ipm for black printing and 6.0 ipm for color, printing with confidence to deliver high-quality prints in impressive volumes.
Replacing inks and Wi-Fi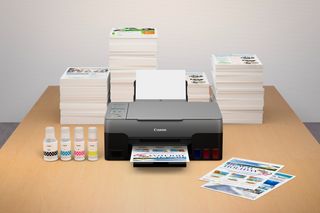 With integrated front-facing ink tanks, it's quick and easy to determine ink levels, as you can check the level of the maintenance cartridge on the LCD screen or through the Canon PRINT App (iOS/Android), available for the Pixma G3560 and Pixma G3520 models.
Plus improved key type bottles, it has never been easier to refill ink tanks. Simply insert the bottle into the corresponding tank and it fills itself, automatically stopping when full.
The Wi-Fi enabled Pixma G3560 and Pixma G3520 models allow users to connect effortlessly, thanks to compatibility with Apple AirPrint and Mopria for Android, as well as the Canon PRINT app for printing from your smart device. In addition, for those looking for creative inspiration, Canon's Creative Park allows users to unleash their inner artist by making 3D paper crafts, as well as personalized cards.
Key features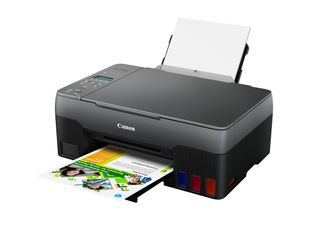 PIXMA G-SERIES MEGATANK RANGE KEY FEATURES:
Replaceable maintenance cartridge
Mechanical ID/Key type ink bottles
2-line LCD display
Economy Print Mode
Compatibility with magnetic, iron on, restickable, matte and photo media
PIXMA G3560 KEY FEATURES:
3-in-1 print, copy, scan
High-speed printing: 10.8 ipm mono and 6.0 ipm color
Wi-Fi capability
Cloud connectivity
PIXMA G3520 KEY FEATURES:
3-in-1 print, copy, scan
Wi-Fi capability
Cloud connectivity
PIXMA G2560 KEY FEATURES:
3-in-1 print, copy, scan
High-speed printing: 10.8 ipm mono and 6.0 ipm color
PIXMA G2520 KEY FEATURES:
3-in-1 print, copy, scan
PRICES
Canon Pixma G3560 – £219.99 / €279.99
Canon Pixma G3520 – £199.99 / €249.99
Canon Pixma G2560 – £179.99 / €199.99
Canon Pixma G2520 – £159.99 / €179.99
Canon Pixma G1520 – £139.99 / €159.99
Canon's Megatank range is sold under slightly different model names in the US (see the current USA Megatank range).
Read more:
The best photo printers
Best all-in-one printers
Best wireless printers
Printer maintenance explained
The best portable printers