Refillable ink tanks beat cartridges for running costs and convenience. Conventional cartridge-based inkjet printers are generally sold with 'setup cartridges' that last next to no time, and a full set of regular replacement cartridges often costs as much or even more than the printer itself, so it's easy to see where manufacturers make their money. And as for the lack of convenience, you can almost count on cartridges running out just when you need them most, which can be a big problem if you don't have spares to hand. All in all, cartridges can be a pain and a financial drain. There has to be a better way.

As their names suggest, Canon MegaTank, Epson EcoTank and HP Smart Tank printers are fitted with relatively high-capacity ink tanks which last very much longer before they need refilling. Ink levels are clearly visible through transparent panels in the front of the printers, avoiding any nasty surprises. Refilling the tanks is based on large bottles of ink which work out massively cheaper. There's also an upside in that ink bottles are more environmentally friendly with less raw materials and a much more straightforward manufacturing process, especially if you're in the habit of binning used cartridges rather than sending them for recycling.

The net result is that if you print in fairly large volumes that run into hundreds of pages per month, you can reduce the 'total cost of ownership' of a printer by as much as 85 to 90 per cent, over its whole lifetime. Naturally, the initial purchase price is typically higher but there's the prospect of huge savings further down the line. The flipside is that if you only print around 60 pages per month or less, it can make more financial sense to stick with a conventional cartridge-based printer.

You might worry that refilling ink tanks with bottles might be a messy business. That often used to be the case but times have changed. Nowadays, ink bottles generally have individually keyed tops, so each one only fits in the correct tank. What's more, they're gravity fed so there's no squeezing involved, and ink is only released via an internal valve once the bottle is safely positioned in the receptacle at the top of the tank. The valve will also shut off automatically once the tank is full.

Let's take a look at which refillable printers are the best buys on the market right now, to suit a wide range of requirements.

The best ink refill printers in 2023
Why you can trust Digital Camera World Our expert reviewers spend hours testing and comparing products and services so you can choose the best for you. Find out how we test.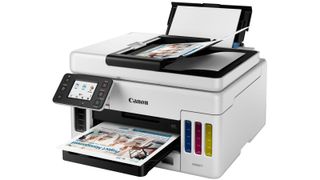 Fast but not furious, this printer is ever-helpful and very easy to live with. It's ideally suited to busy individuals, families and anyone who has a lot of printing on their hands. Full bottles of ink will see you through 6,000 mono pages and 14,000 color pages, stretching to 9,000 and 21,000 in Economy mode. Printing itself is super-quick at 24ipm (impressions per minute) mono and 15.5ipm for color. Copying and scanning tasks are simplified by a 50-sheet ADF, functions being brought together by a 2.7-inch color touchscreen with an intuitive interface. Nice touches we liked include an additional rear paper input tray for specialist media and 1.2m banner printing. The full set of pigment-based inks gives very robust mono and color output but we found during testing that it is less well suited to photo printing on glossy paper.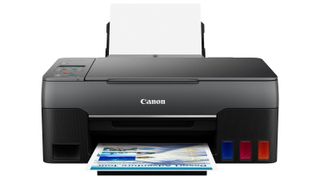 With an initial purchase price that's only about the same as for some conventional cartridge-based printers, this Canon gives you a very affordable route into tank-based printing. Even so, its set of ink bottles is good for 6,000 mono pages and 7,700 in color. With a pigment-based black ink and dye-based cyan, magenta and yellow, it makes a good stab at photo printing, delivering around 2,200 6x4-inch color photos from full tanks. There's no color touchscreen but controls are nevertheless intuitive, based on a 2-line mono LCD. 1.2m banner printing is also supported but duplex printing needs to be done manually and we found that it is not particularly fast.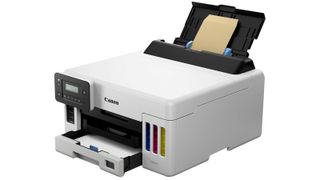 Let's face it, not everyone needs a printer with a built-in scanner for scanning and copying. If you don't, this printer will give you high performance with a terrific turn of speed for relatively little initial outlay. Like a number of competing printers, it runs on pigment-based black ink and dye-based cyan, magenta and yellow inks. The result is crisp and robust, smudge-resistant black text, and decent photo output on glossy paper. It has a nifty turn of speed too, at 13ipm for mono and 6.8ipm for color, with enough ink capacity for 6,000 and 7,700 pages respectively, or 2,200 6x4-inch color photos. Wide-ranging connectivity includes USB, Wi-Fi and Ethernet, and there's a 350-sheet input cassette plus a 100-sheet rear tray, along with auto duplex printing.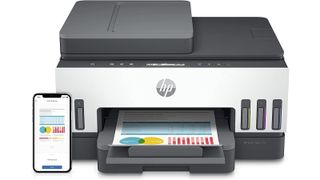 Despite being keenly priced, this HP printer is well-connected with USB, WI-Fi, Wi-Fi Direct and Ethernet all built-in, as well as Bluetooth (low energy) for easy pairing with smart devices. It's supplied with two bottles of pigment-based black ink and one each of dye-based cyan, magenta and yellow inks, sufficient for printing up to 12,000 mono pages and 8,000 color. Unusually, replacement bottles of black ink are available in standard or high-yield options, with a life of 4,000 or 6,000 pages respectively. The printer features a 35-sheet ADF for scanning and copying but has fairly rudimentary controls based around a small mono screen. There's only one paper input cassette and no additional tray, so you need to swap out plain paper if you want to print photos.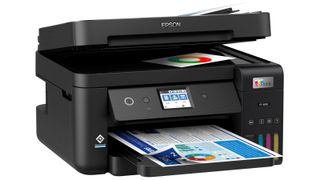 Although fairly compact and lightweight, this Epson printer is packed with features that are ideal for the busy home environment. Taking on everything from kids' homework assignments to all your grown-up printing needs, it features a scanner with a 30-sheet ADF and boasts advanced scanning, copying and fax facilities, all brought together by a neat 2.4-inch color touchscreen. Auto duplex printing is also available but there's no additional paper input tray for photo paper or specialist media. We calculate that a set of ink bottles should last for 7,500 mono pages and 6,000 color – which Epson says is equivalent to as many as 72 cartridges. We liked that the printer is actually supplied with two black ink bottles for up to 15,000 mono pages - which we think is remarkably generous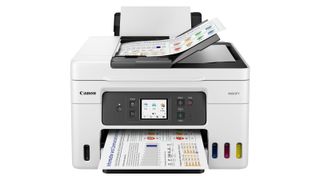 Like a number of other Canon MAXIFY printers, this one runs on four pigment-based CMYK inks, with bottles rated at 6,000/14,000 mono and color pages, stretching to 9,000/21,000 in economy mode. An upside of the all-pigment inks is that you get robust prints for both mono and color documents on plain paper, which are resistant to smudging from water and highlighter pens. The downside is that photo quality on glossy paper is comparatively poor. Home office-friendly features include a 35-sheet ADF which feeds a scanner for scanning and copying, as well as direct fax. Controls are intuitive, based on a 2.7-inch color touchscreen. There's an internal 250-sheet paper cassette, plus a 100-sheet rear feeder for photo paper and other specialist media.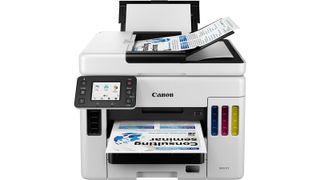 A particularly business oriented printer, this one builds on the core features of the Canon MAXIFY GX6021/GX6050. It has all the same benefits of super-fast print speeds, great stamina with up to 6,000 mono pages and 14,000 color pages per set of bottles (9,000 and 21,000 in Economy mode), auto duplex printing, a color tilting touchscreen interface and 1.2m banner printing. On top of this it adds a secondary paper input cassette, so you get two 250-sheet cassettes plus the same additional 100-sheet rear tray. Scanning and copying for double-sided pages is much quicker, thanks to both sides each page being scanned in a single pass, and the printer also adds a direct fax facility.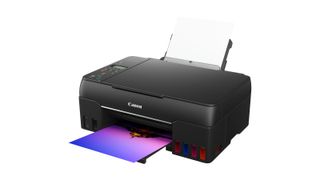 Less ideal for document printing, this is more of a specialist photo printer, featuring six dye based inks. As well as the usual CMYK, you also get red and gray inks, which extend the gamut for color photo printing and increase the tonal range and definition for black & white photo prints. There's no internal paper feed cassette, so paper is only inputted from an upright rear tray, but the printer features a high-resolution 1200dpi scanner, ideal for copying existing photo prints. A set of ink bottles is good for 3,800 color 6x4-inch photo prints but print speeds are pretty pedestrian. Mono and color documents are printed at 3.9ipm, and a borderless 6x4-inch photo takes about 47 seconds.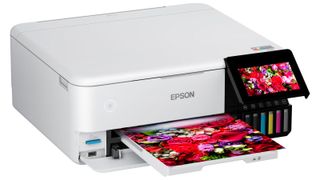 A good choice for creatives who want to print documents, photos and craft projects from a single printer, this Epson features a pigment black ink along with dye-based CMYK and gray inks. This enables crisp, smudge-resistant black text along with excellent photo quality on glossy paper for both color and black & white images. The paper input system is suitably accommodating, with internal cassettes for both A4/letter paper and smaller photo paper, plus a rear tray for other photo paper or specialist media. The ink bottles have an expected life of around 2,300 6x4-inch color photo prints. For regular document printed, they're rated at 6,700 mono pages and 6,200 for color.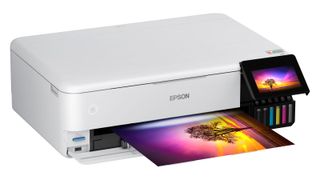 Given how much ink a single A3+/13x19-inch photo print requires, a printer with refillable tanks is particularly ideal. This Epson fits the bill nicely, running on the same ink line-up and replacement bottles as the A4/8.5-inch ET-8500. As such, you can expect around 2,300 6x4-inch photo prints or 6,700/6,200 mono/color pages from a full set of bottles. Naturally, the printer comes into its own for large-format photo printing, which is pretty speedy at about 2 minutes for a borderless A3+/13x19-inch color print. As well as scanning and copying, the printer also supports direct printing from SD, SDHC and SDXC memory cards and is PictBridge compliant. Standalone printing and copying is enhanced by a 4.3-inch color touchscreen.
How we test printers
Printers come in many shapes and sizes, from pocket photo printers to large-format professional models. We check the suitability for wide-ranging tasks from printing office documents to high-end photographic output and, consequently, the type and quantity of dye/pigment inks. Additional features can include a built-in scanner, a standalone control panel, a touchscreen interface, Wi-Fi connectivity, direct fax functions, and a card reader slot.
Our test procedure begins with installing the latest software drivers and running nozzle check and print head alignment routines. We then create test prints from mono documents, mixed text and graphics color documents, and a wide range of digital photos that include landscapes, portraits, and black & white images.
We use the various available quality modes, including optional image enhancement features. We also create prints from our own specially created test chart, to test the printer's accuracy in terms of color reproduction, tonal range, retention of detail in bright highlights and dark shadows, and the ability to deliver smooth gradations in subtle color variations. The printer manufacturer's own-brand inks and papers are used throughout the entire testing procedure.
For output speed, we record the time taken to produce various sizes of prints at different quality settings. Ink costs are calculated on typical page yield against average prices for the manufacturer's own-brand cartridges or bottles.
To learn more about how Digital Camera World tests products for reviews and buying guides please visit our how we test and review page.