Looking for a camera that you can use to shoot pictures of the wildlife in your backyard, and anything else you can see? Then this neat Canon bridge camera could be just the thing to use as you sit in self-isolation. And it will be a great camera for travelling, as and when we are all free to roam the world again.
The big selling point of the Canon PowerShot SX540 HS is its huge 50x zoom... which offers an equivalent focal range of a 24-1200mm zoom. Now that is great for shooting wide-angle interiors – but also for getting close-up shots of that bird on a branch at the end of the garden. In fact, with so much optical power, it will give you jaw-dropping close-ups of the moon too. And there is built-in image stabilization too - so that you don't have to panic about camera shake.
The camera offers a decent 20.3 megapixel resolution for stills - but can also offer HD video shooting at up to 60 frames per second.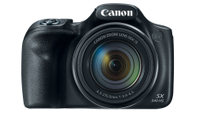 Canon PowerShot SX540 HS|save £50|now £199
Currys is offering £50 off this high-spec bridge camera - that offers a built-in 50x zoom lens that will enable you to shoot almost any subject that you can think of. The camera comes with free delivery to your door.
UK deal
There is a full range of exposure modes and metering options for those who want to take control - but you can also leave things in auto if you just want to point and shoot. And the images you take can be shared easily with the rest of the world via your phone using a WiFi or NFC link.
Other key features include:
- 3 inch LCD screen
- built-in GPS
- minimum focus 1cm
- ISO 80 - 3200
- shutter speed range 15 secs - 1/2000sec -
rechargeable battery
Read more